Portobello Lasagna Rollups
Level:

Intermediate

Total:

1 hr 30 min
Prep:

20 min

Cook:

1 hr 10 min
Yield:

6 servings

Nutrition Info

Nutritional Analysis

Per Serving

Calories

497 calorie

Total Fat

18 grams

Saturated Fat

7.4 grams

Sodium

1108 milligrams

Carbohydrates

56 grams

Dietary Fiber

12 grams

Protein

26 grams
Ingredients
Easy Tomato Sauce:
Directions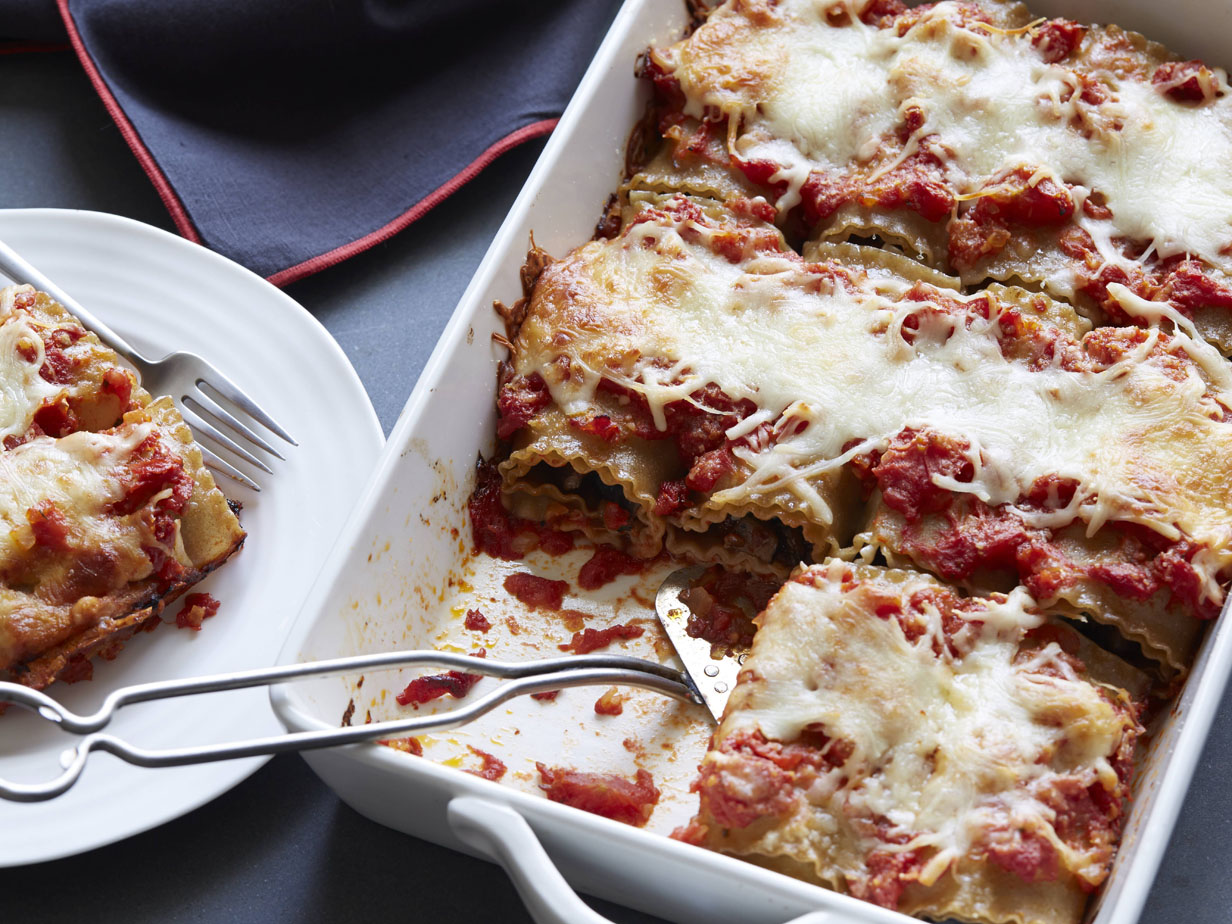 Preheat the oven to 375 degrees F.
Cook the noodles to al dente according to the directions on the package. Drain them well and spread them out onto aluminum foil or waxed paper to prevent them from sticking.
Heat the oil in a large saute pan over medium-high heat. Add the mushrooms and cook, stirring occasionally, until browned and all the liquid has evaporated, about 5 minutes. Season with 1/4 teaspoon of the salt. Stir in 1 1/2 cups of the tomato sauce and simmer for 2 minutes. In a medium bowl, combine the ricotta cheese, spinach, egg, the remaining 1/4 teaspoon salt, a few turns of pepper and nutmeg.
Spread 1 cup of the tomato sauce on the bottom of a 9- by 12-inch baking dish. Spread about 2 tablespoons of the ricotta mixture onto a lasagna noodle. Top with about 1 1/2 tablespoons of the mushroom mixture, roll the noodle and place it into the baking dish. Repeat with the remaining noodles. Spread the remaining 1 1/2 cups sauce over the lasagna rolls. Top with the grated cheeses, cover loosely with foil and bake for 45 minutes. Uncover and bake for 15 minutes more.
Easy Tomato Sauce:
In a large pot, heat the oil over medium heat. Add the onions and cook, stirring occasionally, until soft, about 5 minutes. Add the garlic and cook for 2 minutes longer. Add the tomato paste, dried oregano, whole tomatoes and bay leaf, and cook, uncovered, stirring occasionally, until thickened, about 30 minutes. Season with salt and pepper.
Source: Read Full Article