Grilled Chicken with Alabama White Barbecue Sauce
Total:

9 hr 15 min

(includes brining time)

Active:

40 min
Ingredients
Chicken:
Alabama White Barbecue Sauce:
Directions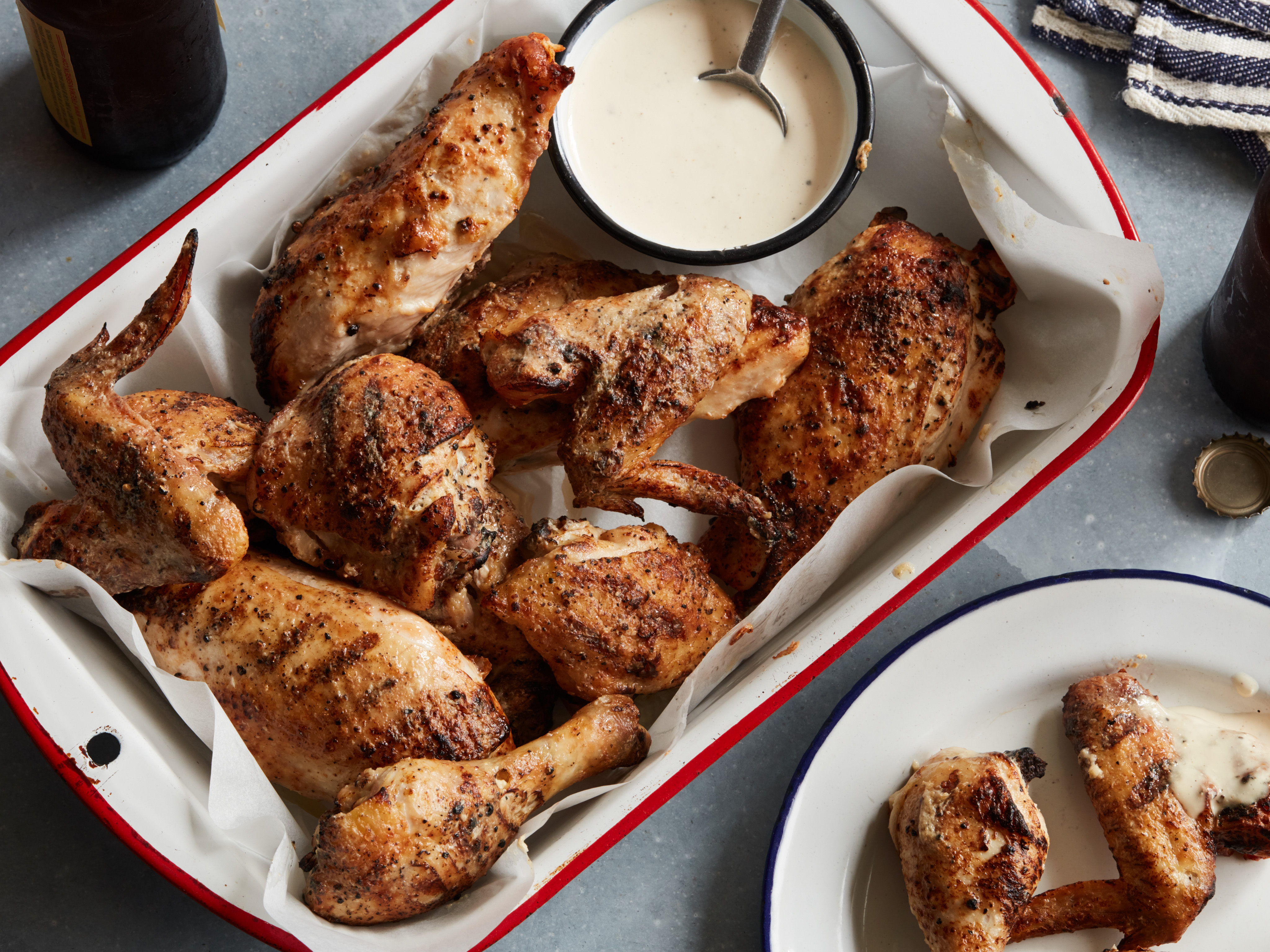 For the chicken: In a pot large enough to hold the chicken, combine the sugar, 1/4 cup salt and 2 cups cold water. Stir until the salt and sugar dissolve. Pour in the beer and add the garlic, bay leaves and peppercorns. Submerge the chicken in the brine. Cover and refrigerate at least 8 hours and up to overnight.
For the Alabama white barbecue sauce: Meanwhile, whisk together the mayonnaise, vinegar, horseradish, sugar and Worcestershire in a medium bowl until smooth. Season with 1 teaspoon salt, hot sauce to taste and a liberal grinding of black pepper. Cover and refrigerate until you're ready to cook the chicken. (Can be made a day ahead, along with the chicken brine.)
Prepare a grill for medium indirect grilling. Drain and rinse the chicken and pat very dry. Season the chicken lightly with salt and more liberally with black pepper. Brush lightly with vegetable oil.
Brush the grill grates with vegetable oil and lay the chicken, bone-side down, on the indirect heat side of the grill. Cover and cook until the skin is golden and the chicken is about three-quarters cooked (130 to 135 degrees F on an instant read thermometer), 20 to 25 minutes. Flip the chicken pieces so they are skin-side down and continue indirect grilling until the chicken is cooked through and reads 165 degrees F on an instant-read thermometer, about 15 minutes more.
Brush the chicken all over with some of the Alabama white barbecue sauce and move the chicken, skin-side down, to the direct heat side of the grill. Grill just until the skin crisps, about 3 minutes, moving as necessary to keep it from burning. Let rest for 5 minutes before serving.
Serve the remaining Alabama white sauce on the side for dipping.
Source: Read Full Article