Salmon Kushiyaki
Total:

6 hr 45 min

(includes marinating time)

Active:

35 min
Yield:

Four 10-inch skewers
Ingredients
Directions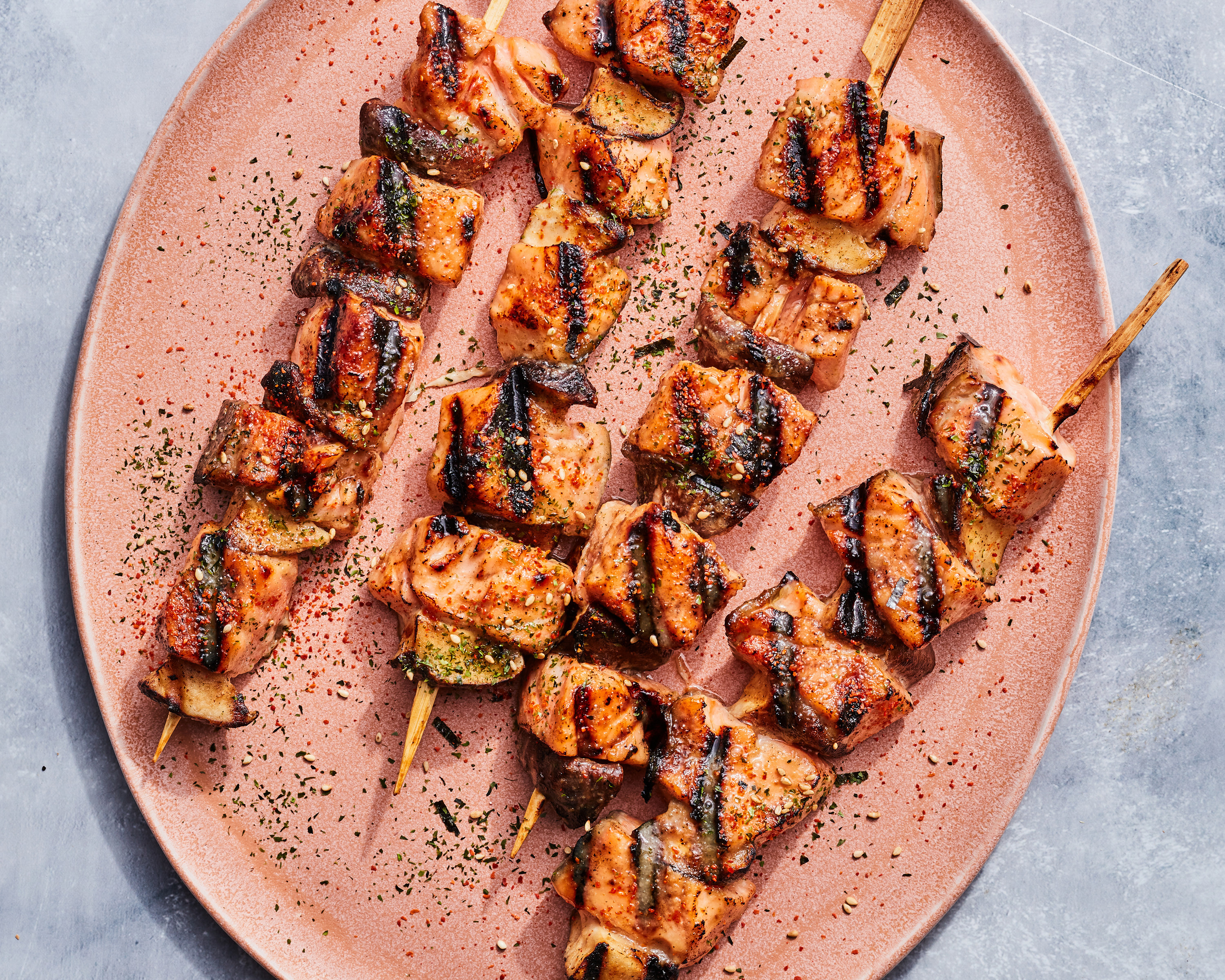 Special equipment:
Soak four 10-inch bamboo paddle skewers in water for 30 minutes.
Meanwhile, combine the mirin and sake in a small saucepan and bring to a boil over medium-high heat. Reduce to a simmer, add the brown sugar and cook, whisking until dissolved, 1 to 2 minutes. Add the miso and whisk until dissolved, 1 to 2 minutes. Let cool, then remove 1/4 cup and set aside for brushing. Pour the remaining marinade over the salmon cubes in a baking dish, tossing to coat. Cover and refrigerate the salmon and reserved marinade for at least 6 hours and preferably overnight.
Prepare a grill for medium-high heat. Lightly coat the hot grates with vegetable oil.
Remove the salmon from the marinade and blot dry with a paper towel. Thread each skewer with 5 to 6 pieces each of salmon and shiitake, alternating between the two and piercing the salmon through the flesh and out the skin side. 
Place the skewers on the grill and lightly sprinkle each with salt. Grill for 1 minute on each side (so they cook evenly). Continue to grill, turning continuously, until the shiitake are tender and the salmon is browned and cooked through, about 10 minutes more. Brush some of the reserved 1/4 cup of miso marinade all over each skewer. Grill until the glaze is slightly caramelized, 2 to 3 minutes. Remove from the grill and sprinkle with furikake or togarashi.
Cook's Note
Look for paddle skewers at Japanese markets and online.
Source: Read Full Article