Salisbury Steak With Mushrooms
Yield:

4 servings

Nutrition Info

Nutritional Analysis

Per Serving

Calories

352

Total Fat

21 grams

Saturated Fat

10 grams

Cholesterol

141 milligrams

Sodium

428 milligrams

Carbohydrates

11 grams

Dietary Fiber

1 grams

Protein

27 grams
Ingredients
1 pound ground beef
1 large egg, lightly beaten
1/4 onion, finely chopped (about 1/3 cup)
7 saltine crackers, finely crushed (about 1/4 cup)
1 teaspoon minced fresh sage
Kosher salt and freshly ground pepper
3 tablespoons unsalted butter
8 ounces sliced mixed mushrooms
2 teaspoons Worcestershire sauce
3 tablespoons all-purpose flour
2 1/2 cups hot water
1 to 2 tablespoons chopped fresh parsley
Buttered egg noodles, for serving (optional)
Directions
Try this cooking class now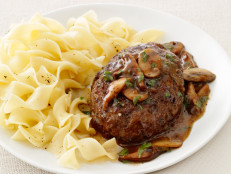 Try this cooking class now
Watch Class
Gently mix the beef, egg, onion, cracker crumbs, sage, 1/2 teaspoon salt and a few grinds of pepper in a large bowl using your hands. Divide into 4 equal portions and shape into oval patties, about 1/2 inch thick.
Heat 1 tablespoon butter in a large skillet over medium-high heat. Brown the patties, about 4 minutes per side. Transfer to a plate.
Add 1 tablespoon butter to the skillet and cook the mushrooms, stirring occasionally, until slightly browned, about 2 minutes. Stir in the Worcestershire sauce, and salt and pepper to taste, scraping up any browned bits from the bottom of the skillet with a wooden spoon. Sprinkle in the flour and stir, then stir in the hot water and simmer until the sauce begins to thicken, about 2 minutes. Add the remaining 1 tablespoon butter, swirling to combine.
Return the patties and any juices from the plate to the skillet. Simmer until the sauce thickens and the patties are cooked through, about 2 minutes. Sprinkle with parsley and season with salt and pepper. Serve with noodles, if desired.
Source: Read Full Article