Fried Chicken with Black Pepper Gravy
Total:

1 hr 10 min

Active:

45 min
Ingredients
Chicken:
3 cups all-purpose flour
2 tablespoons baking powder 
1 tablespoon yellow mustard powder 
1 tablespoon Hungarian paprika 
2 teaspoons garlic powder 
2 teaspoons onion powder 
1 teaspoon cayenne 
Kosher salt and freshly cracked black pepper 
2 cups low-fat buttermilk 
1/4 cup hot sauce 
1 tablespoon apple cider vinegar 
2 pounds bone-in, skin-on chicken thighs (about 8) 
One 16-ounce container vegetable shortening 
1 quart neutral frying oil 
Gravy:
2 cups whole milk
1 teaspoon kosher salt 
1 teaspoon freshly cracked black pepper 
4 dashes hot sauce 
Directions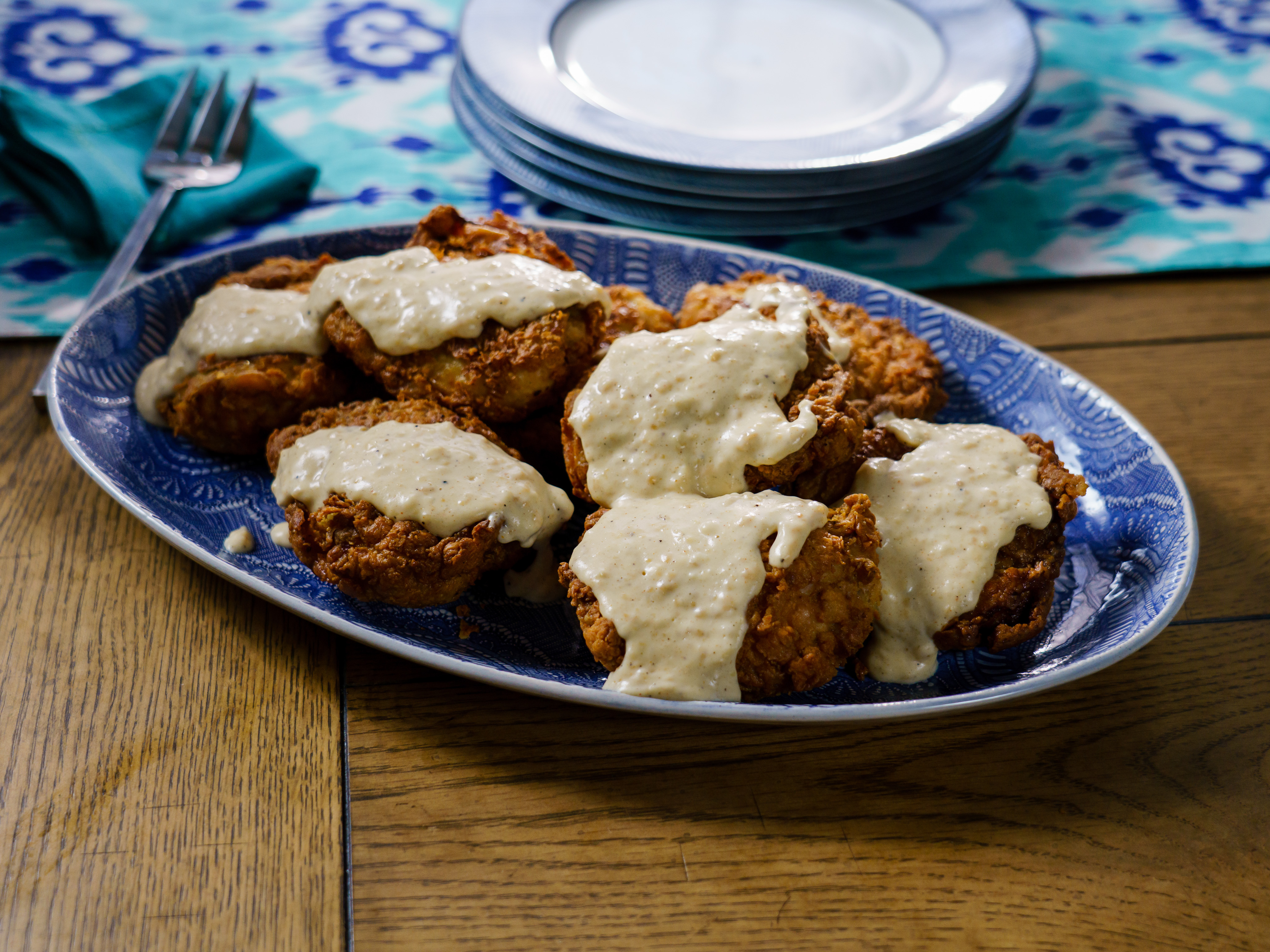 Special equipment:
For the chicken: Whisk together the flour, baking powder, mustard powder, paprika, garlic and onion powders, cayenne and 1 teaspoon salt in a large mixing bowl. Whisk together the buttermilk, hot sauce and vinegar in a second bowl.
Line a baking sheet with parchment paper. Line a second baking sheet with a cooling rack.
Place the chicken on the parchment-lined baking sheet. Sprinkle both sides generously with salt and pepper.
Working with one hand dedicated to the flour mixture and one hand dedicated to the buttermilk, dredge the chicken thoroughly in the flour mixture. Shake each piece individually to make sure it is fully coated and any excess flour is released. Place in the buttermilk mixture and toss gently to coat. Place the chicken back into the flour mixture to dredge again. Remove from the flour mixture and place on the parchment-lined baking sheet. (Reserve flour mixture.)
Place a large cast-iron skillet over medium heat. Add the vegetable shortening to the skillet and heat until melted. Once all the shortening has turned to liquid, add oil to the skillet until it comes up 1 inch from the rim. Attach a deep-frying thermometer to the skillet and preheat the oil to 350 degrees F.
Carefully add half the chicken to the oil. This will cause the temperature to decrease, so adjust the heat to maintain 325 degrees F. Fry the chicken, flipping only once halfway through, until an instant-read thermometer inserted in the thickest part of the meat, avoiding bone, registers 170 degrees F, 14 to 18 minutes. Remove the chicken to the cooling rack. Sprinkle with kosher salt and set aside; fry the remaining chicken.
For the gravy: Transfer 1/4 cup of the frying oil to another cast-iron skillet over medium heat. Whisk in 1/4 cup of the flour mixture used to dredge the chicken. Cook until a smooth paste is formed, 2 to 3 minutes. While whisking continuously, pour in the milk. Simmer until the sauce thickens and can easily coat the back of a spoon, about 8 minutes. Season with salt, pepper and hot sauce. Pour the gravy over the fried chicken.
Source: Read Full Article