Extra-Crunchy Sheet-Pan Mac and Cheese
Total:

40 min

Active:

25 min
Ingredients
Kosher salt
1 pound elbow macaroni
2 cups half-and-half
8 ounces cream cheese, at room temperature
2 cups shredded sharp Cheddar
2 cups shredded Monterey Jack cheese
1 tablespoon Dijon mustard
1 teaspoon hot sauce, or more to taste 
2 cups panko breadcrumbs
6 tablespoons unsalted butter, melted 
Directions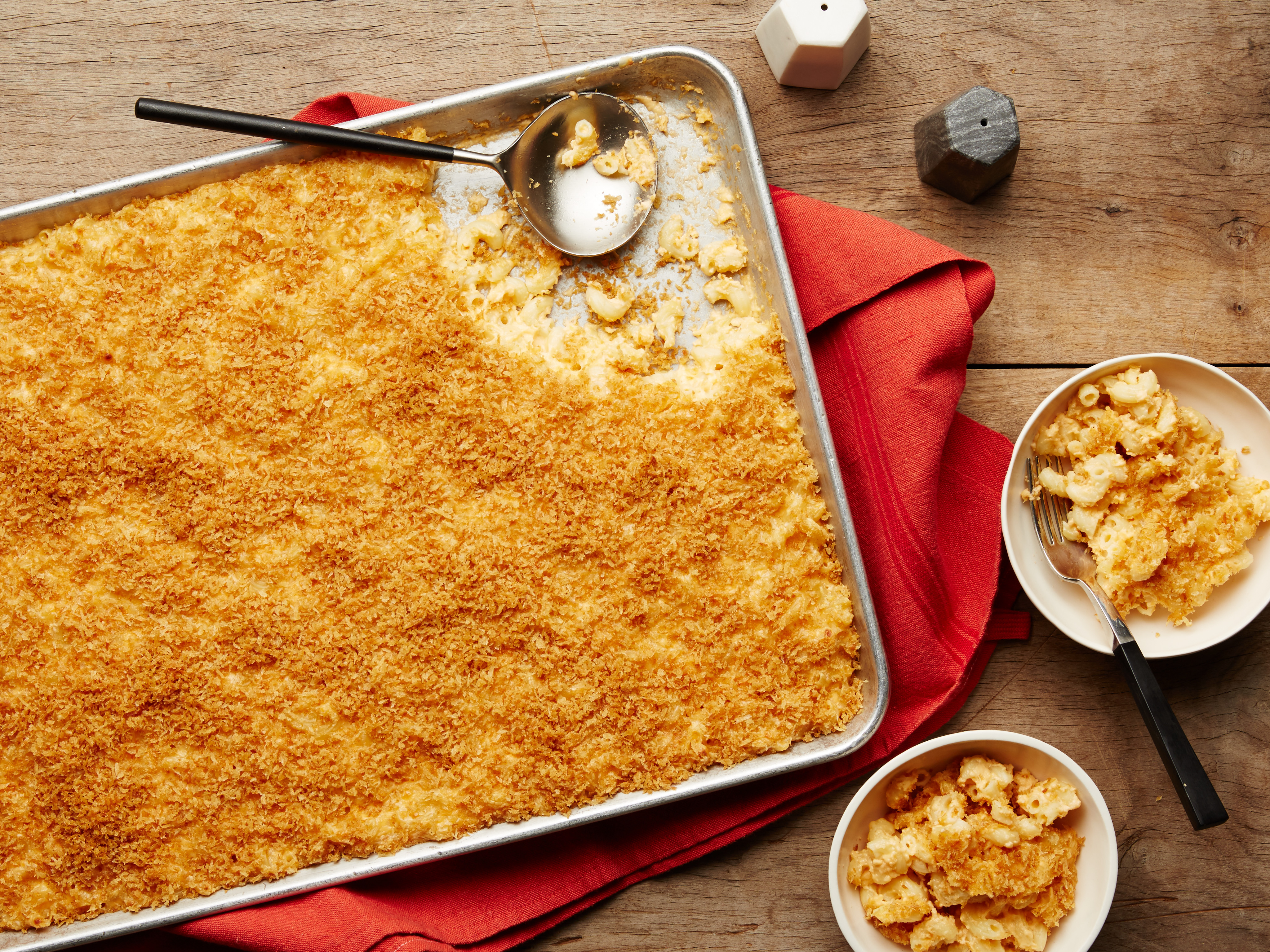 Special equipment:
Position a rack in the upper third of the oven and preheat to 450 degrees F. Bring a large pot of salted water to a boil. Add the macaroni, and cook according to package directions until al dente. Drain the macaroni, reserving 1 1/2 cups of the pasta water. Set aside.
Heat the half-and-half, cream cheese, and reserved pasta water in a large pot over medium heat, stirring until the cream cheese is completely melted and the mixture just comes to a simmer. Remove from heat and add the Cheddar, Monterey Jack, Dijon mustard, and hot sauce, whisking until the cheeses are melted and the sauce is smooth. 
Add the macaroni to the pot and stir to combine. (It will look very loose, but the pasta will absorb some of the sauce as it bakes.) Season to taste with salt if desired. Spread the macaroni mixture on an 18-by-13-inch sheet pan.
Toss the panko, butter and 1/2 teaspoon salt together in a medium bowl and sprinkle evenly over the pasta. Bake until the cheese is bubbly and the bread crumbs are brown and crisp, rotating halfway through, 20 to 25 minutes.
Source: Read Full Article