Enchilada Lasagna Roll-Ups
Total:

1 hr 35 min

Active:

1 hr
Ingredients
Directions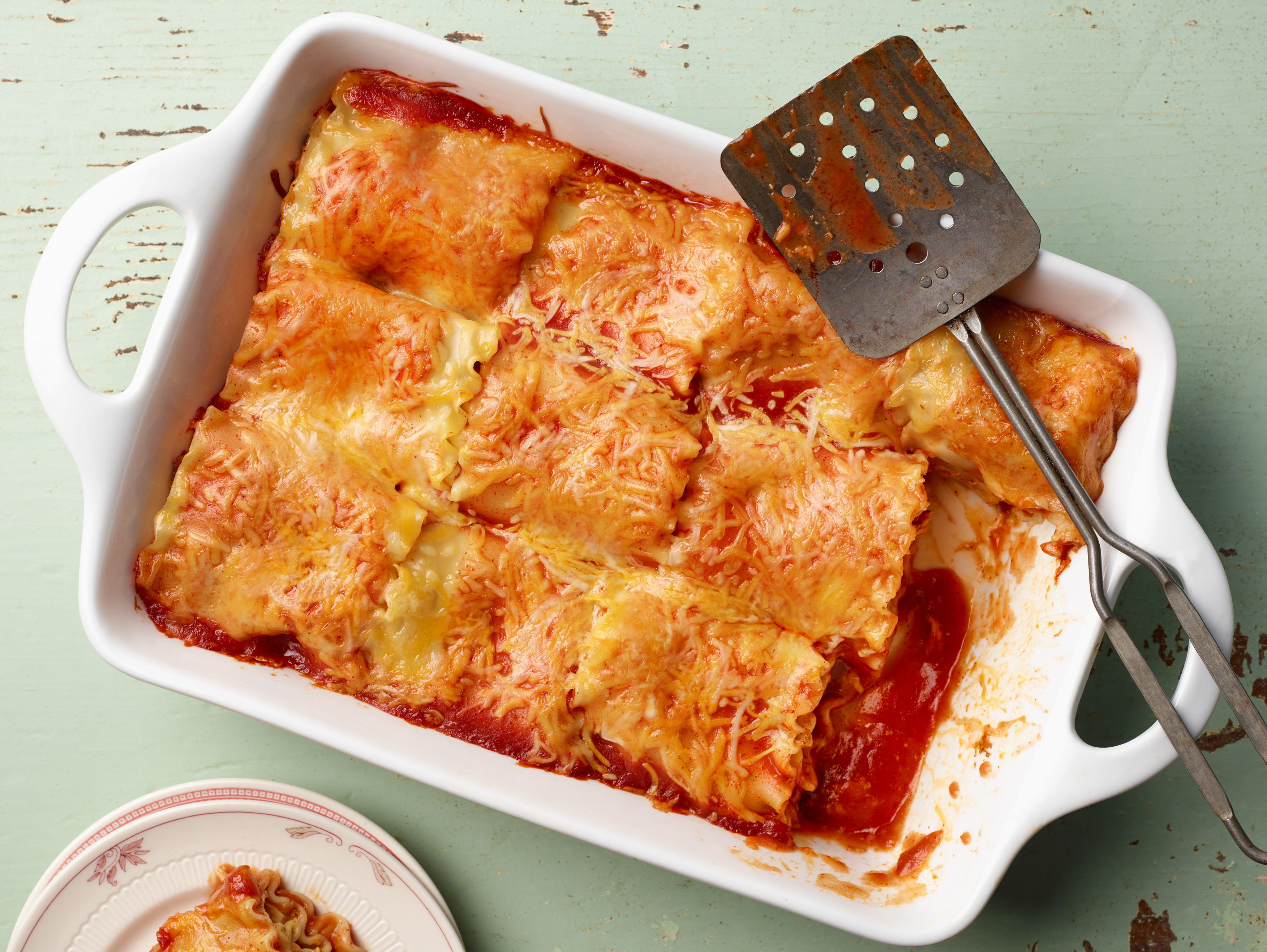 Preheat the oven to 425 degrees F.
Bring a large pot of salted water to a boil over high heat. Cook the lasagna noodles, stirring occasionally, 1 minute longer than the package directs for al dente. The pasta should be tender enough so that it will roll without cracking. Drain well and rinse with cold water. Lay in a single layer on a baking sheet. 
Meanwhile, combine the chicken, jalapenos, chili powder, cumin, garlic, 1 cup cheese, 1/2 cup enchilada sauce, 1 tablespoon sour cream and the scallion whites in a large bowl until well combined.  
Spread 1/4 cup of the enchilada sauce on to the bottom of a 13-by-9-inch baking dish. Lay half the cooked lasagna noodles on a clean work surface and spread a scant 1/4 cup of the chicken mixture over a noodle, covering it entirely. Starting with the short end, roll the noodle up. Transfer to the prepared baking dish seam-side down. Repeat with the remaining noodles and chicken mixture. Pour the remaining enchilada sauce over the lasagna rolls, then sprinkle with the remaining 1 cup cheese. Cover with foil and bake until the rolls are heated through and the sauce is bubbly, about 20 minutes. Remove the foil and bake until the cheese is browned on top, about 10 minutes. Let stand for 5 minutes. 
Stir 2 tablespoons water into the remaining sour cream and drizzle over the top of the noodles. Sprinkle with the scallion greens.
Source: Read Full Article