Chipotle-Inspired Vegetarian Burrito Bowl
Total:

45 min

Active:

35 min
Ingredients
Directions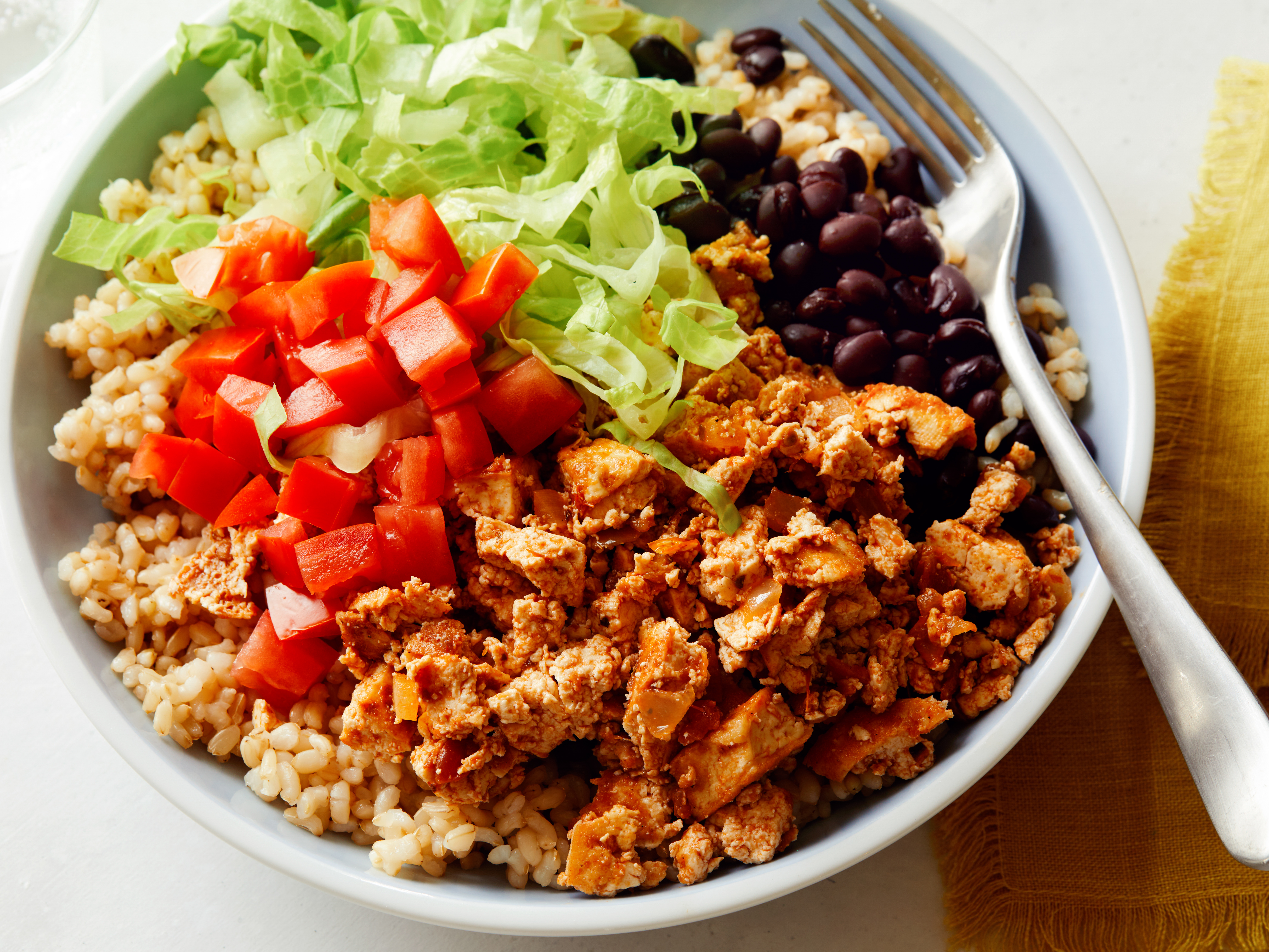 Preheat the oven to broil. Place the poblano and the onion wedges on a baking sheet and rub with 1 tablespoon of the olive oil. Broil, turning several times with tongs, until the poblano has collapsed in on itself and the vegetables are charred, 6 to 8 minutes. Remove from the oven. When cool enough to handle, remove the skin, stem and seeds from the poblano, and discard. Transfer the poblano to a blender. Add the charred onion wedges, chipotle pepper and adobo sauce, garlic, Worcestershire, tomato paste, vinegar, chili powder, cumin, 1/2 cup water, 3/4 teaspoon salt and a few grinds of black pepper. Blend until smooth.
Meanwhile, cut the tofu crosswise into 1/4-inch thick planks, then press between a couple papers towels to remove as much moisture as possible. Heat 1 tablespoon of the olive oil in a large nonstick skillet over medium-high heat. Add the tofu and cook until well browned, about 5 minutes per side. Transfer to a plate to cool. 
Heat the remaining 1 tablespoon olive oil in the same skillet, then add the diced onion and cook until tender, stirring occasionally, about 6 minutes. With your hands, tear and crumble the tofu into very small pieces and add to the pan. Cook, stirring to combine, until warmed through, about 2 minutes. 
Add the poblano mixture and 1/2 cup water to the skillet and cook until it's bubbling all over and the tofu has absorbed some of the sauce, about 5 minutes. Add 1 to 2 tablespoons more water if the mixture gets too dry (it should be saucy). Taste and adjust seasoning with more salt and pepper. 
Serve over rice and beans, topped with lettuce and tomatoes.
Source: Read Full Article