This Garlic Bread Pepperoni Pizza Casserole Is Dinner Magic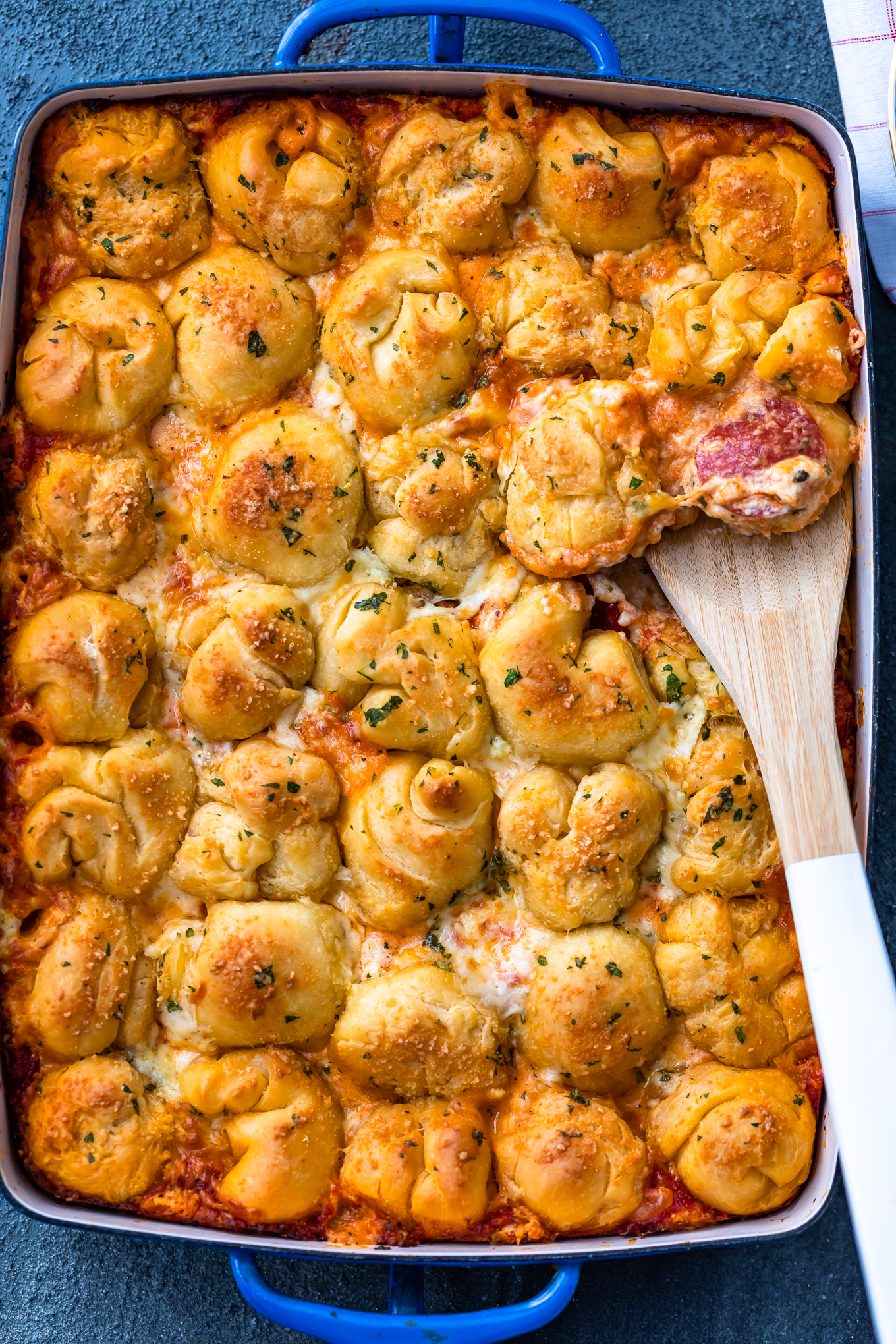 Kitchn's Delicious Links column highlights recipes we're excited about from the bloggers we love. Follow along every weekday as we post our favorites.
A casserole dish presents an open invitation to experiment. Not sure what to do for dinner? Pile some things into the dish, bake it for 45 minutes, and hope something delicious comes out. That sort of experimentation inspired the creation of countless wonderful casseroles and hot dishes made of everything from green beans to tater tots.
This pepperoni pizza casserole deserves a place of honor in that hot dish recipe canon, because it's a big dish full of melted cheese and garlic butter that will have people asking, Is it a savory bread pudding? A dish full of loaded garlic knots?
The pizza-casserole magic starts with multiple layers of blended cheese, pasta sauce, and pepperoni, and the best part is that the whole thing is topped with balls of pizza dough and coated with homemade garlic butter.
Making the butter is the easy part. Just mix together butter, minced fresh garlic, and chopped parsley, and set that aside for later.
Make sure the baking dish is well-coated with a nonstick cooking spray before you start building the layers, because you don't want to lose any of them to the bottom of the pan when you're finished.
Start by mixing together shredded mozzarella, freshly grated Parmesan, and a block of softened cream cheese with Italian seasoning, red pepper flakes, and black pepper. Layer that all over the bottom of the casserole dish. In the oven, the cheese will get melty and stretchy like very good pizza cheese, and the cream cheese will make sure everything is rich, smooth, and creamy.
Top the cheese layer with a layer of pizza sauce, then cover that with another two cups of shredded mozzarella. Then cover that with a layer of pepperoni slices.
For this recipe, you'll need two packages of pre-made pizza dough, but instead of rolling it out into a pizza shape, you'll roll it between your hands into little balls of pizza dough. You should have roughly one ball of dough for every piece of pepperoni you just placed across the casserole. Brush each ball with the garlic-butter mixture, and set it on top of one of the pepperoni slices. Make sure it's nicely garlicky, then sprinkle grated Parmesan over the top and bake the whole thing until the pizza dough is golden-brown and glossy, and the cheese and sauce are bubbling around the edges.
Let it cool for a few minutes so all the flavors can meld, and also so no one winds up with the dreaded pizza-mouth burn. Once it's cool enough to eat, spoon the garlic bread balls and melted cheese into bowls and grab a fork and some napkins, because this is one pizza you cannot possibly eat with your hands.
Get the recipe: Garlic Bread Pepperoni Pizza Casserole from The Cookie Rookie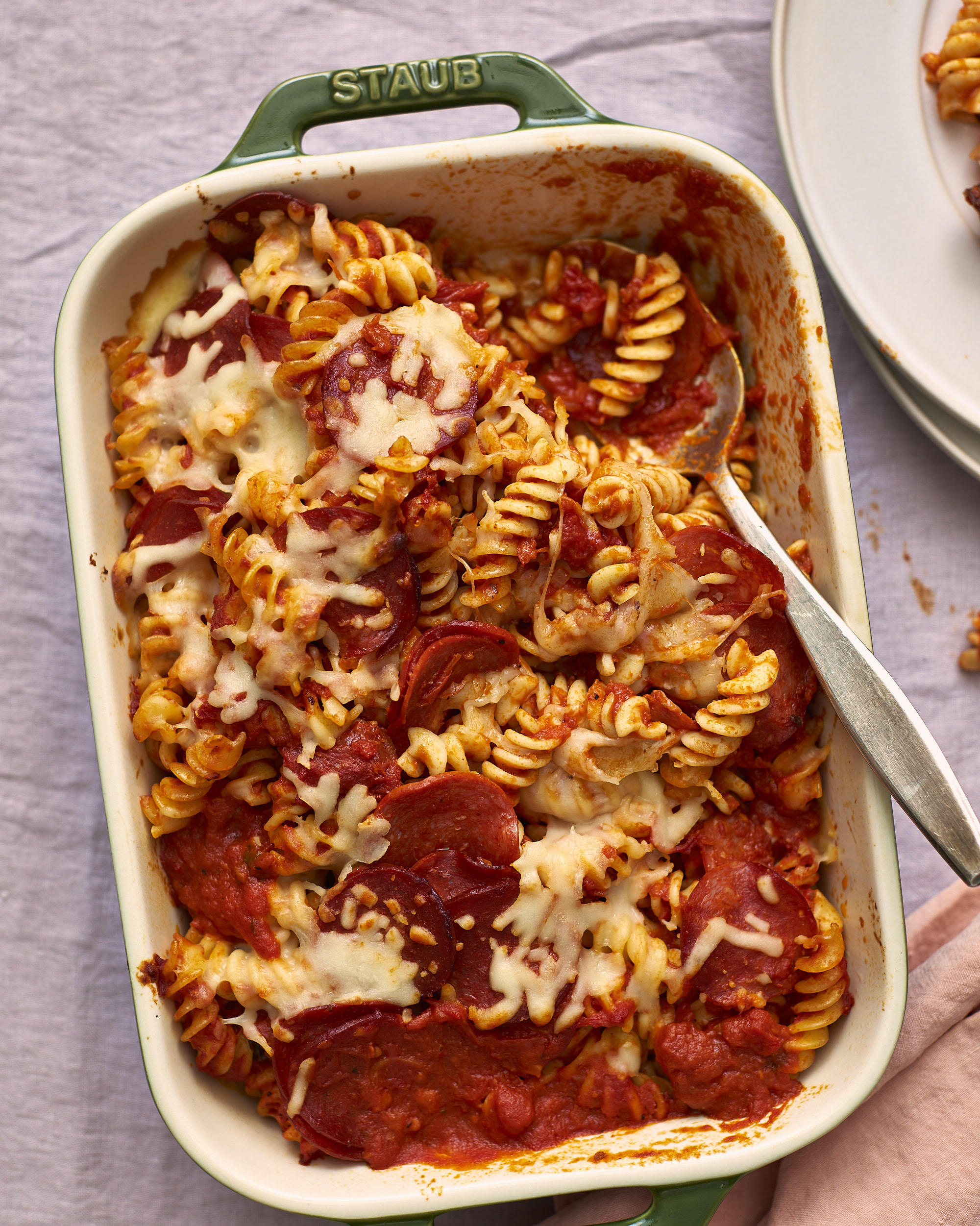 More Innovative Casserole Recipes from Kitchn
Pepperoni Pizza Baked Pasta
Leftover Chili Baked Potato Casserole
How To Make the Easiest Tater Tot Casserole
Source: Read Full Article