Grilled Side of Salmon Stuffed with Creamy Corn and Bacon
Total:

2 hr 10 min

(includes cooling time)

Active:

45 min
Ingredients
Directions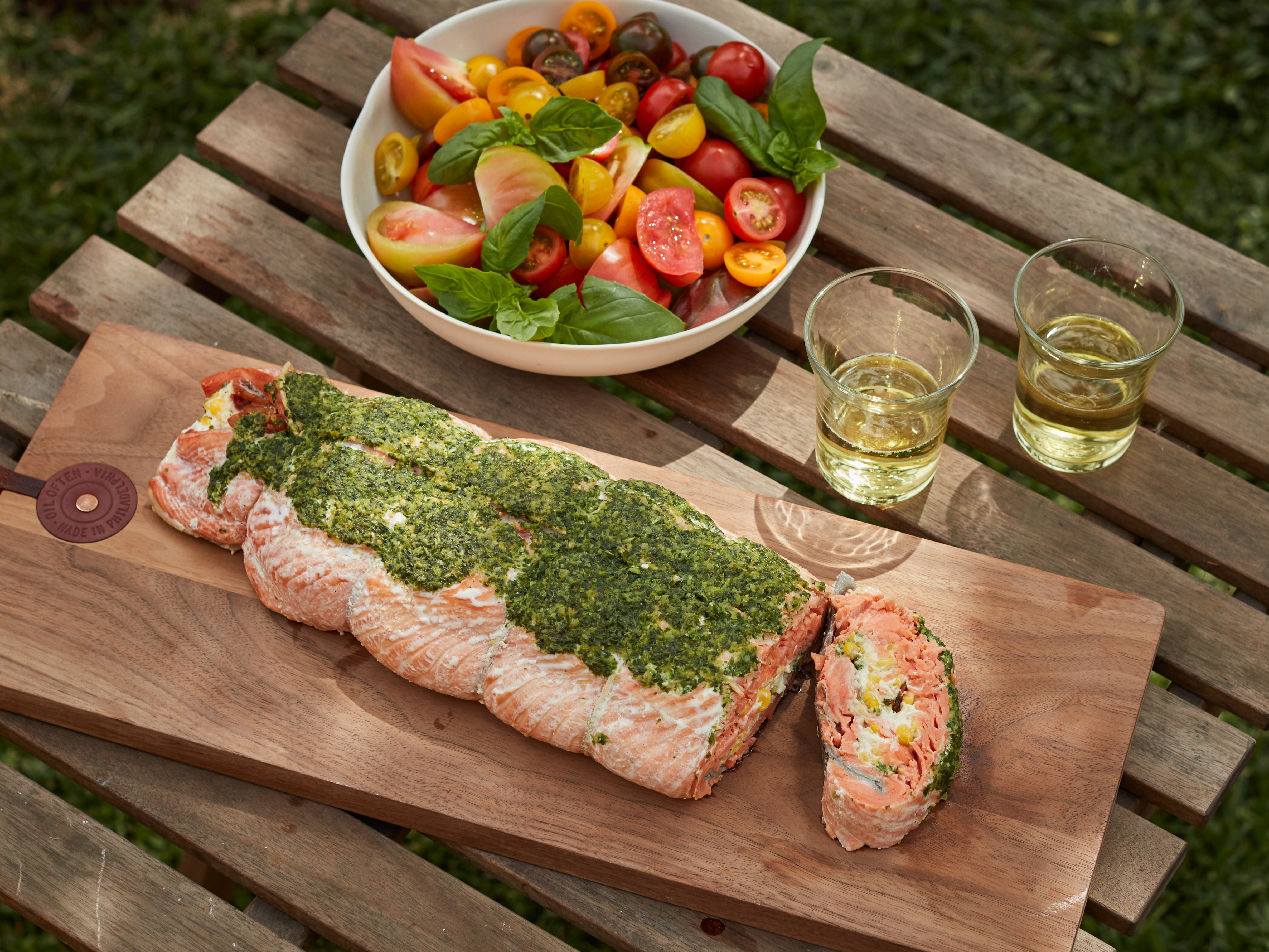 Special equipment:
Add the bacon to a medium skillet and cook over medium-high heat until crispy, about 10 minutes. Transfer the bacon to a plate with a slotted spoon; reserve.
Discard all but 1 tablespoon of fat from the skillet and reduce the heat to medium. Add half the shallots and cook, stirring often, until translucent and softened, about 5 minutes. Add the corn and continue to cook, stirring often, until heated through and translucent, about 5 minutes. Remove from the heat and stir in the cream cheese and 1 teaspoon salt until combined. Let cool to room temperature, about 45 minutes.
Meanwhile, add the herbs, lemon zest and remaining shallots to a food processor and pulse until finely chopped. Add the butter and 2 teaspoons salt and pulse until well combined; set aside.
Prepare a grill for medium indirect heat: For gas grills (with 3 or more burners), turn all the burners to medium-high heat; after about 15 minutes, turn off one of the middle burners and turn the remaining burners down to medium. For charcoal grills, bank one chimney starter-full of lit and ashed-over charcoal briquettes to one side of the grill. Set up a drip pan on the other side to avoid flare-ups. (Be sure to consult the grill manufacturer's guide for best results.)
Set the salmon on a cutting board. Use a knife to score the salmon down the middle lengthwise, halfway through its thickness. Working from the center line out toward the edges, cut thin flaps from the score to the edge, like a gatefold, then open them up. Spread half the herb butter on the salmon and spoon the corn mixture down the middle. Sprinkle the bacon on top, then fold the sides of the salmon up to cover the filling. Tie the salmon together in 6 places with butcher's twine. Spread the remaining herb butter on top and sprinkle generously with salt.
Stack 3 sheets of heavy-duty aluminum foil that are 6 inches longer than the salmon and spray the top layer generously with nonstick cooking spray. Transfer the salmon to the middle of the foil and crimp the sides so they form a rim.
Transfer the salmon on the foil to the indirect-heat side of the grill and cook, covered, until the salmon is cooked through and the stuffing is hot, about 25 minutes (depending on your grill). Move the salmon to the direct-heat side for 5 minutes to crisp the skin. Using heatproof gloves, carefully transfer the foil with the salmon to a platter for serving. Serve with lemon wedges.
Source: Read Full Article