So, You're CBD Curious? How to Take a Taste of the Easier, Friendlier Cannabis Trend.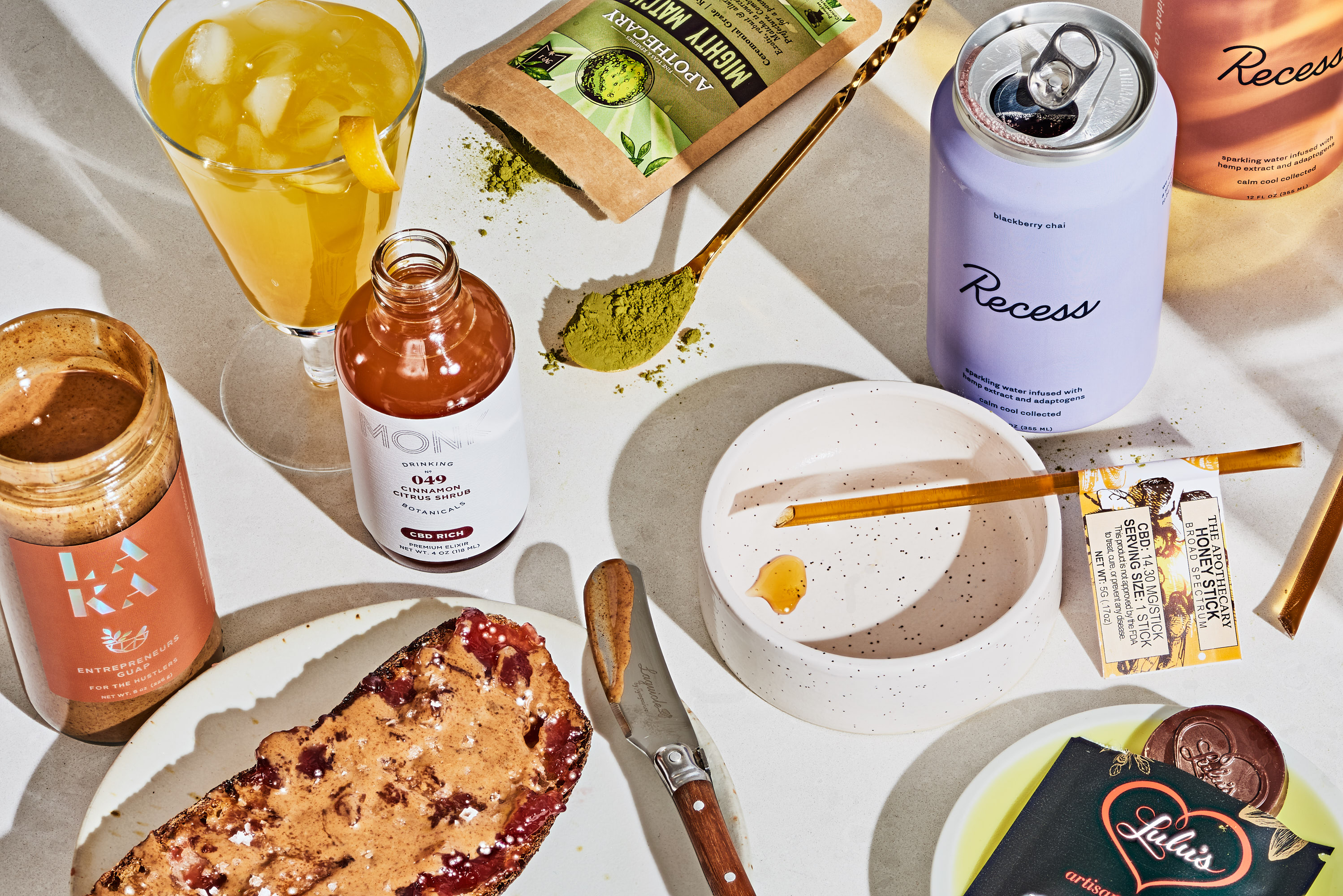 Have you heard of CBD? You may think that is a silly question, given that the non-psychoactive cannabis compound seems to be everywhere right now. Is it a miracle supplement? A placebo? Will it relax you? Will it calm anxiety? Many claims, little evidence — but the craze is certainly real! It feels like the très chic ingredient of the moment, showing up in many hip new groceries from seltzer to almond butter to (of course!) matcha.
If you're curious about CBD, but are only vaguely aware of what it is and what it claims — or curious about how to try it out in your kitchen, here's a good place to start.
Okay, explain it again. What is CBD?
Two chemicals, tetrahydrocannabinol (THC — the psychoactive compound in pot that gets you high) and cannabidiol (CBD) are both derived from the cannabis plant. While they have the same origins, the similarities stop there.
THC has very well-known effects — everything and anything associated with a marijuana high (hello, munchies!) is thanks to THC. CBD, on the other hand, doesn't give a pronounced immediate effect, but anecdotal personal experience of users call its effects soothing, de-stressing, and calming.
Read more: Here's What You Need to Know About CBD Oil
If it doesn't get you high, why is it so popular?
CBD is likely having a moment because of its purported ability to help alleviate the emotional load of stress. It is no secret that Americans are a bit on edge these days, so CBD is touted as an antidote to our current collective ailment. Are there other ways to alleviate stress? Yes. Will CBD solve all your problems? No. But in relationship with other stress-relieving products and lifestyle changes, it can potentially have an impact.
Read more: I Tried CBD for a Month and Here's My Experience
Emerging research shows that it also may help treat loads of ailments, from insomnia to anxiety to depression and more, although there is a lack of long-term scientific studies on this.
Okay, got it. What does this have to with food?
CBD is super trendy in food right now, from on-trend, small-maker groceries, to recipes and more. We are seeing many people using it in the kitchen and entertaining spaces in a serious way, whether they're throwing CBD dinner parties (what up, CBD-infused pasta), or drinking homemade CBD-laced cocktails, or even just passing around a sweet CBD vape pen after dessert — maybe even for dessert.
Read more: I Tried CBD Supplements for a Month and Here's My Experience
How do people add CBD to food?
Chris Yang, a molecular biologist and founder of PopCultivate, a cannabis pop-up dinner company in LA, feels that eating CBD (or "ingesting it," to use the proper terminology) is totally different from smoking it. "It's all about how CBD enters your bloodstream," Yang says.
"When you ingest it [whether it's in your food or in a pill], you're getting small doses of CBD for a long period of time, so it can stay in your body from eight to 12 hours — but if it's dosed properly, it can be really relaxing," he explains. When you smoke it, however, you can get this huge hit where it enters your bloodstream quickly, but then dissipates quickly as well.
The main draw for using CBD in the kitchen, though, just may be for people who are, as Yang puts it, "cannabis curious." Remember, there are lots of people out there who use CBD for medical purposes, and for that, he recommends sticking with it in capsule form, as they often need much heavier doses. "But for people who are curious about what cannabis, and CBD in particular, is all about, but are hesitant to smoke it or vape it or anything like that, a food experience is a great start."
Not only is it a nice "social lubricant," but there also tends to be less of a stigma around eating it than consuming it in other ways. "We have a lot of first-timers come to our cannabis dinners, because they feel more comfortable eating it than anything else," he explains.
Of course, not everyone lives near Yang's pop-up cannabis dinners — so the next best thing is trying out some CBD edibles on your own. It's important to remember that CBD is still very much unregulated by the FDA, which means that, unless you are mixing it with food under the provision of a professional like Yang, it is done purely at your own judgment and risk.
So, if you're new to CBD and curious about trying a taste, we recommend starting with some great products first (no serious cooking required).
5 Delicious CBD Products for the Cannabis-Curious
CBD supplements and lotions and potions are great and all, but in our opinion, the food scene is where the true (and fun) magic happens. There are tons of awesome products out there that blend CBD with food — here are some we happen to really love.
https://www.instagram.com/p/Bq20PC2hRwR/https://www.instagram.com/p/Bq20PC2hRwR/
1. CBD and Adaptogen-Infused Seltzer Sampler from Recess
You probably already love seltzer (because who doesn't?), so chances are real high that you'll be into this drink, too. It comes in three flavors — blackberry chai, pom hibiscus, and peach ginger — and it's infused with both CBD and adaptogens, which are plants and herbs that claim to help you manage your stress. The end result? You, sippin' on seltzer, relaxed (and hydrated) AF.
https://www.instagram.com/p/BUP0stHAAjc/https://www.instagram.com/p/BUP0stHAAjc/
2. CBD Drinking Botanicals Sampler from MONK
Welcome to 2019, in which booze-free cocktails are making serious headway into the mainstream world. These fancy-pants infused juices — or, "Drinking Botanicals," to use their terminology — are no exception. They're infused with hemp seed extract and terpenes (essential oils), and come in five delicious flavors: rosemary orange peel, grapefruit cayenne, turmeric lemon, cinnamon citrus shrub, and ginger maple shrub. Drink them straight or mix them with booze; you really can't go wrong.
https://www.instagram.com/p/BqOURAtgmnb/https://www.instagram.com/p/BqOURAtgmnb/
3. CBD Matcha from The Brothers Apothecary
Be honest, are you surprised that matcha made the cut? Didn't think so. Seriously, this other popular green is truly everywhere, and it's practically synonymous with wellness right now — so it makes sense that some genius out there (aka the Brothers Apothecary) thought to mix it with the latest healthy-living darling that is CBD.
Each one of these bags contains about seven servings, and 100 milligrams of CBD, which means that each serving comes in at about 14 milligrams of CBD.
https://www.instagram.com/p/BsMFUO1n8pe/https://www.instagram.com/p/BsMFUO1n8pe/
4. CBD Almond Butter from Laka Living
You'd butter believe this nutty spread is as good as it sounds. Not only is it infused with CBD, but it's also got vanilla beans and Hawaiian sea salt thrown in there —meaning it's the perfect mix of salty and sweet. One serving of the nut butter contains 15 milligrams of CBD, though, so be sure to be mindful of your intake — especially if you're one of those people who can house an entire jar of almond butter in one sitting if given a spoon and a couch (raises hand).
https://www.instagram.com/p/BnakpaSnJxb/https://www.instagram.com/p/BnakpaSnJxb/
5. CBD Chocolate from Lulu's Chocolate
At 20 milligrams of CBD per piece, these delicious sweets will help you relax in a serious way. They also happen to be raw, vegan, and organic. Serve them up for dessert at your next dinner party, or bring them as a hostess gift if you'll be on the guest side, instead — no matter what, you'll get major points for bringing that healthy chill to the table. Or hey, you can even pop one during that afternoon work slump to help you deal with all of the inevitable stress that comes with, well you know, working.
And if you decide to cook with CBD yourself …
If you decide to cook with CBD in the kitchen — specifically with an oil — here some important things to keep in mind before you get started.
1. Avoid direct heat.
First, if you're going to cook with CBD oil, make sure you get your temperatures right.
The best way to cook with CBD oil is to bake it into your food, or to use it to make a salad dressing that you put on top of your food. Whatever you do, don't use CBD-infused oil to actually cook on your stovetop — because CBD oil can't handle direct heat. If you do go down that road, the heat will likely bring out CBD's bitter taste. It may also result in a loss of CBD's terpenes — which are basically plant essential oils that give plants their distinct flavors, aromas, and colors — and can also influence how the plant makes you feel.
2. Pay close attention to the dose.
To be clear, because CBD is not regulated by the FDA, there isn't really a "right" dose. CBD doesn't have an official serving size — which makes figuring out the best dose for you a bit tricky. And so, because it's an unclear world out there in terms of dosing, the best way to figure out how much you should have is really by trial and error.
That said, there are some general guidelines you can follow — which is where this dosage calculator from Honest Marijuana comes in. Keeping in mind that this is by no means super scientific, and that we're still in the beginning stages of figuring out how much CBD is right per individual, try this: Take one to six milligrams of CBD for every 10 pounds of bodyweight. So if you weigh 130 pounds, for example, you'd want to start with around 13 milligrams of CBD. Many CBD oil droppers and candies start with a 10-milligram dose, so it could be helpful to start with one drop or candy, and then work your way up based on your own personal preferences.
Have you used CBD in the kitchen? Share your experience; we'd love to hear.
Source: Read Full Article