IKEA to Start Selling Vegan Hot Dogs in 10-Packs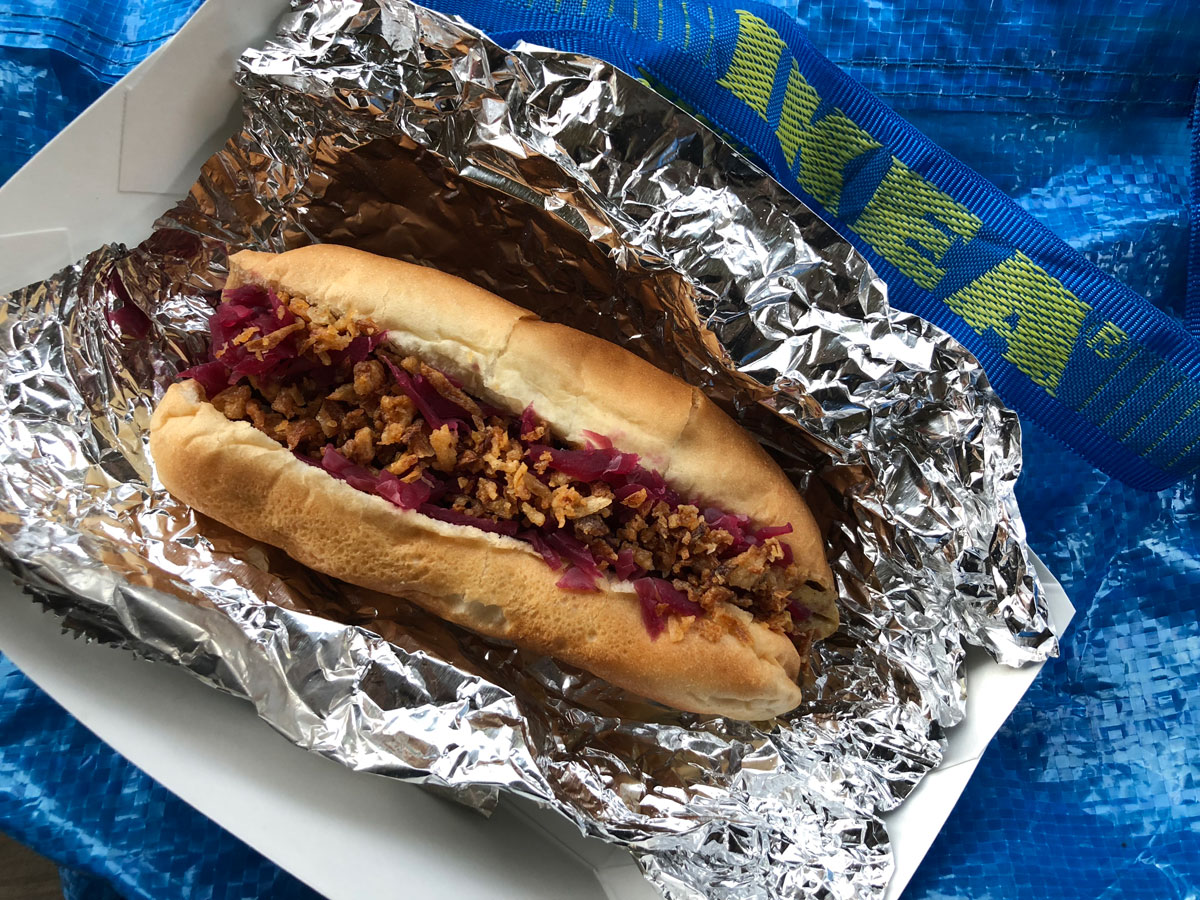 Show me a person who has been to IKEA and doesn't adore at least one of the offerings in their food court, and I'll show you a person who doesn't exist. From their signature Swedish meatballs with lingonberry sauce to more universal fare like cinnamon buns and salmon with mashed potatoes, IKEA has proven time and time again that you can have a delicious culinary experience, all while transforming a room (or two) in your home.
Now that IKEA has established itself as a leader in the hot dog category — having sold more than 1.2 billion of them in the 37 years they've been available — they have turned their eye to the vegan market.
Everyone's favorite big blue box of furniture, IKEA, will soon sell 10-packs of its vegan hot dogs. Dubbed "KORVMOJ," the brand-new product will be added to the Swedish food retail section of the store that we all know and love.
"When starting the development of the veggie hot dog, we asked ourselves: 'Has a plant-based hot dog the potential of becoming as loved by the many as the traditional hot dog?'" Michael La Cour, managing director of IKEA Food Services AB, said in a press release. Based on this particular vegan dog's trajectory, signs point to yes.
Read more: I Tried IKEA's New Veggie Hot Dog and Here's How It Went
Made from kale, red lentils, quinoa, onion, ginger, and carrots, the veggie hot dog was tested last year in a Sweden-based store (served with fried onions and pickled cabbage) — and must have done extremely well there based on its current sales numbers.
After IKEA expanded the offering to locations across Europe and the United States, those vegan dogs sold like, well, hotcakes. This month, IKEA reported that it sold 5 million vegan hot dogs at its in-store bistros, which is why the move to selling them in 10-packs must be happening so quickly. Europe is its first target, and the hot dogs will be available in IKEA stores continent-wide starting in March, with North American and Asian Pacific locations to follow.
"For me the success of the veggie hot dog in the Bistro and now the launch of KORVMOJ confirms our hopes and really lifts this plant-based alternative to the same level as our iconic hot dog," said La Cour.
Source: Read Full Article