Carla Hall's 5 Favorite Weeknight Dinners Include the Easiest Soup You'll Ever Make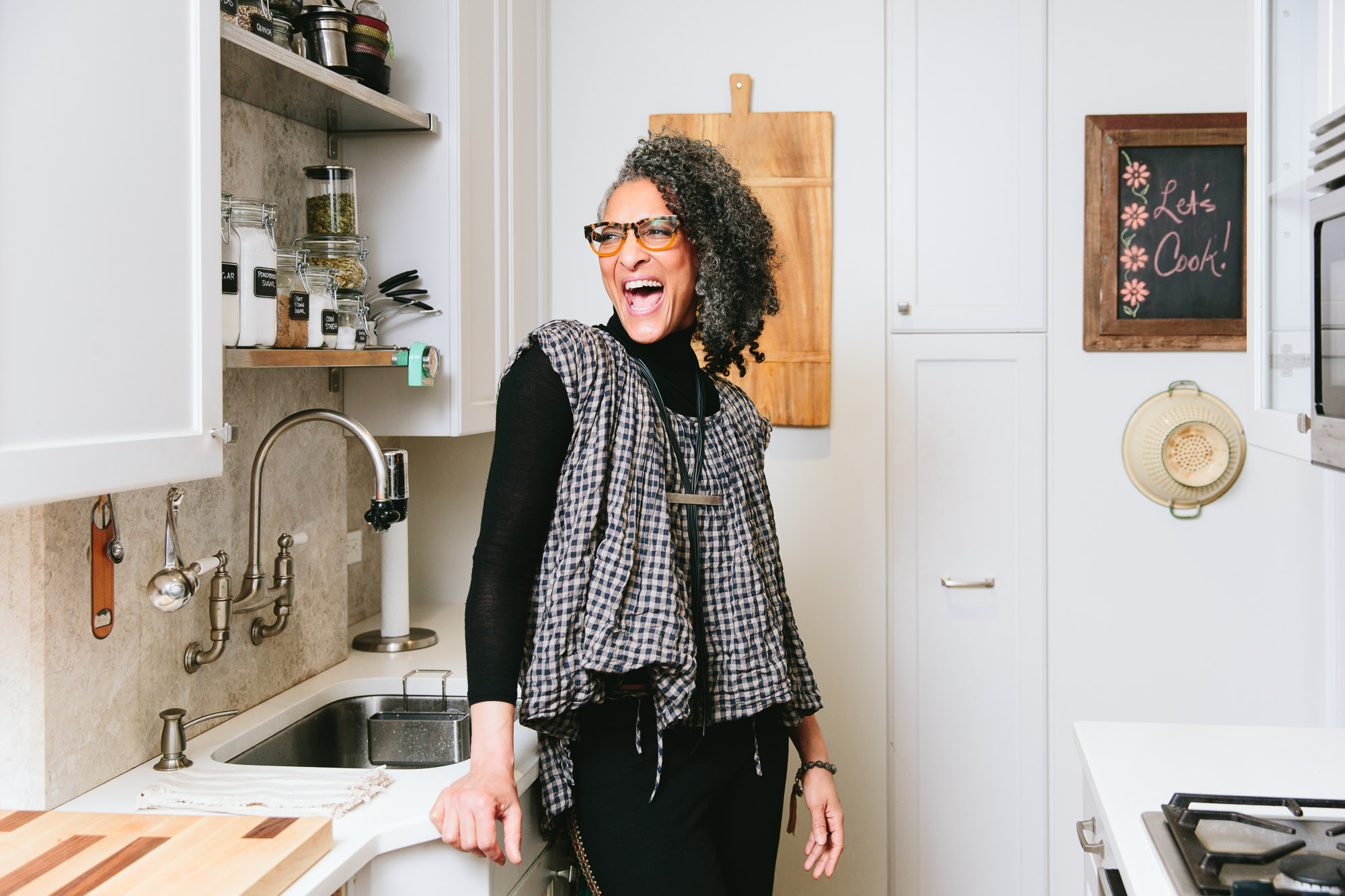 Welcome to Kitchn's series A Week of Dinners, where we show you how our favorite cooks put dinner on the table.
Chef, cookbook author, and TV star Carla Hall is firmly of the mindset that "celebration" and "everyday" foods can coexist, especially in her favorite kind of cuisine: soul food. Last fall she wrote an entire cookbook on the topic, Carla Hall's Soul Food: Everyday and Celebration, aimed at dispelling some of the myths that people harbor towards the food she grew up eating.
"I don't want to mess with the 'celebration' dishes. I don't want a no-fat, low-fat, gluten-free macaroni and cheese. I don't want it. If I'm going to have it, and I'm going to eat it, I'm going to do it right," she tells us, of her cooking philosophy. "In my heart, I'm not food shaming people; there's no version for an oven-baked fried chicken. People may want it, and I will make it for you, but I'm not going to enjoy it."
For Carla, weeknight dinners should be whatever you need them to be, whether that means a lovingly prepared family recipe, a big heap of leftovers, or a soup you make in the blender in less than a minute. Here's what a week of dinners looks like for Carla, plus her favorite kitchen shortcuts and the biggest mistake she sees people make in the kitchen.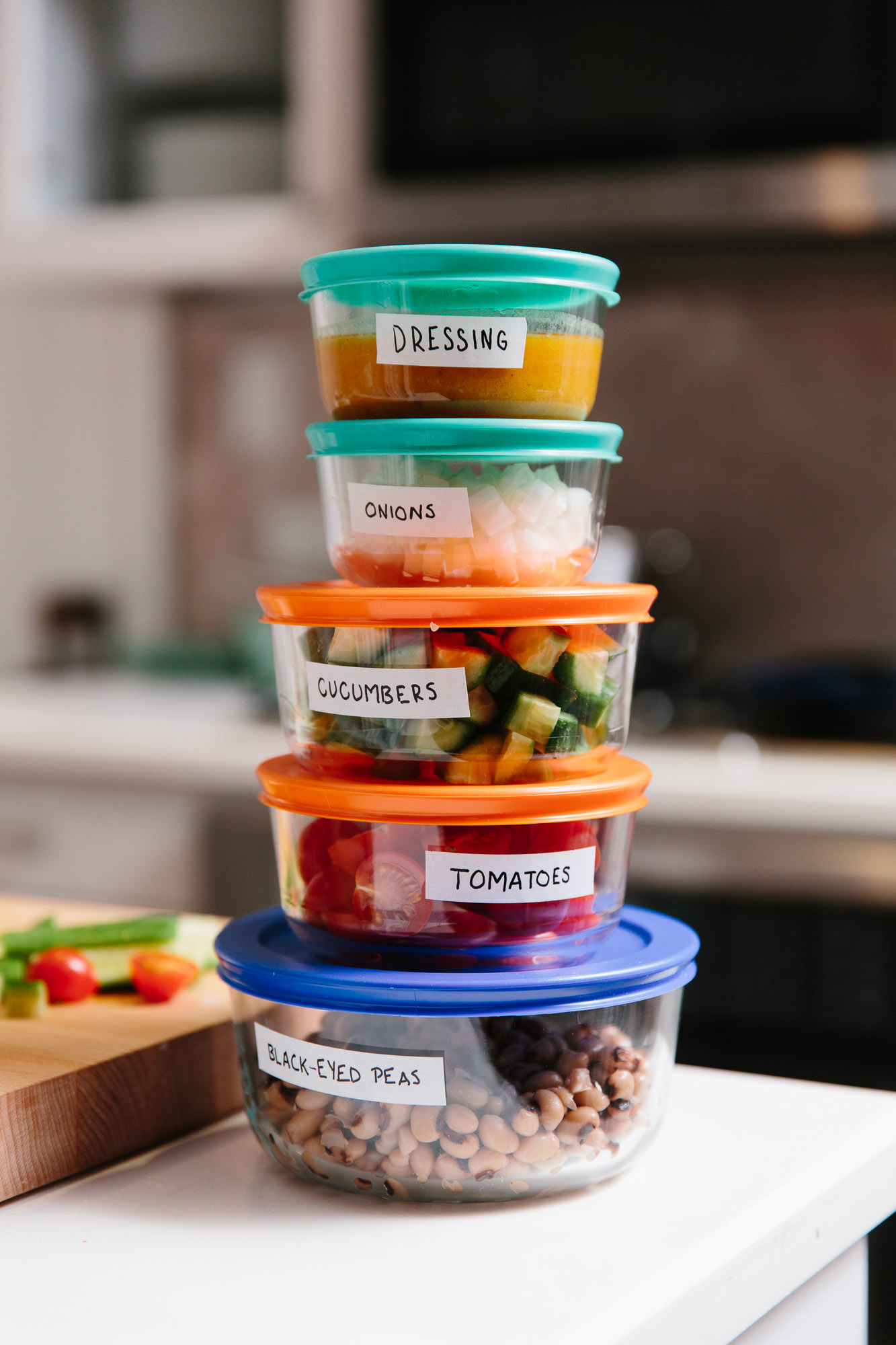 A Week of Dinners from Carla Hall
We asked Carla to share five go-to recipes for easy weeknight cooking. Here is her mix-and-match menu for a week of low-stress, easy-peasy meals.
Baked Chicken with Pan Gravy
I love smothered chicken, but this one is only about 10 minutes of prep and about an hour-and-a-half of passive cooking time. You can put this in a slow cooker if you want to; I put it in the oven. It's just onions, garlic, water, or stock, and the chicken and seasonings. Everything goes in that pan in the oven. If you put that together right when you get home, then you can just walk away and do other things. It is perfect. It's so succulent and delicious.
Chicken and Broccoli Slaw with Buttermilk Dressing
I take the chicken leftovers from the night before, and put it with broccoli slaw. I love broccoli salad and buttermilk dressing, but you need a protein with it. Adding the chicken to it makes it a meal.
Fast Tomato Tortilla Soup
I make this soup in the blender, out of a can, and it is ready in three minutes. You just take canned tomatoes, olive oil, some tortillas, and some garlic and you whiz it in the blender. Then you pour it into a pot and heat it up and then you're eating.
Black-Eyed Pea Salad with Hot Sauce Vinaigrette
This is one of my favorite dishes in the cookbook. I also add grilled celery because it is so tasty. A lot of people don't think to grill celery, but it adds this smokiness to the celery and makes it more than just crunchy water. I love black-eyed peas. This is a "sittin' salad," so if I make this salad for dinner I can take it the next day for lunch because it's good the next day.
Salmon Patties
I used to have these growing up. My father made them from canned salmon. I chose that one because if you have leftover salmon or fish, it's a great dish. If you go out, and have leftover salmon, you can make this dish. It's great with salad, or eggs. Fish doesn't reheat well, so this is a way to repurpose.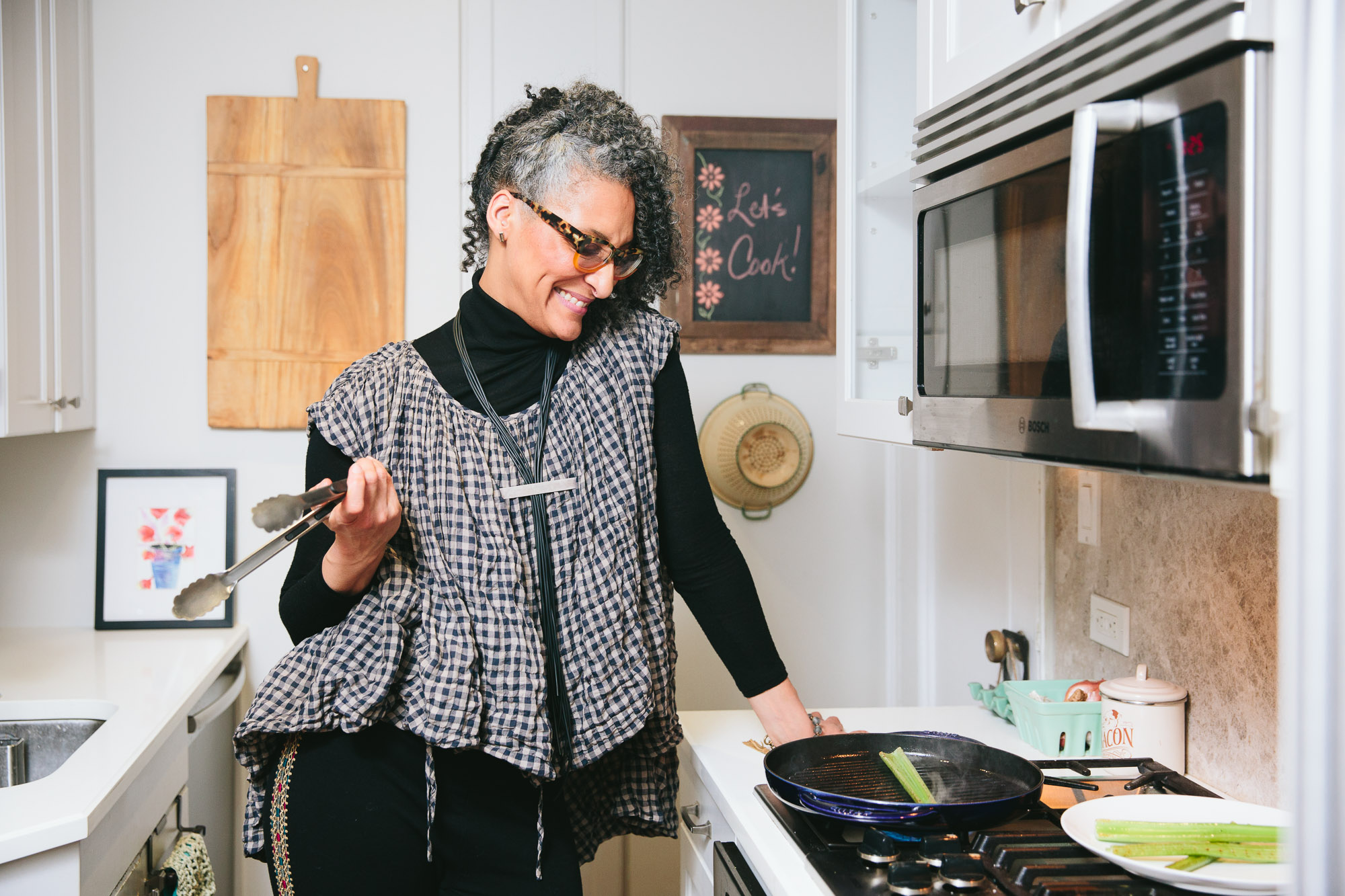 Weeknight Cooking Questions with Carla
For someone so busy, what are the main struggles you face getting dinner on the table?
You didn't want a recipe for cereal so I didn't give you that one! [Laughs.] I eat a lot of cereal — and eggs. I love Raisin Bran and puffed rice. I think, especially when I'm here in New York, I forget (because it's not of my generation) that I can call and have my groceries here. I think if I were to just have some planned thinking, and say Oh I can order my groceries when I'm in D.C. and by the time I get to New York, they will be here, that would change the game.
How many nights a week do you try to cook for yourself?
My husband likes to cook because he doesn't cook in the office. I eat at home two to three times per week. I prefer to eat at home. People always ask me where to eat out and I'm like I don't know! Eating out is a job for me. I eat at home quite a bit, although you'll look in this fridge because I've been gone for about three weeks. But there are always condiments in my fridge so I can make something very easy out of pickles and condiments.
Where do you grocery shop?
I go to Fairway, that's right here. If I need something like nuts or something quick, I'll go to Trader Joe's. You know that line though? I'll be sitting here all day and then I'll go down there at 5 p.m. when everybody else is there! Shop while you're in the line.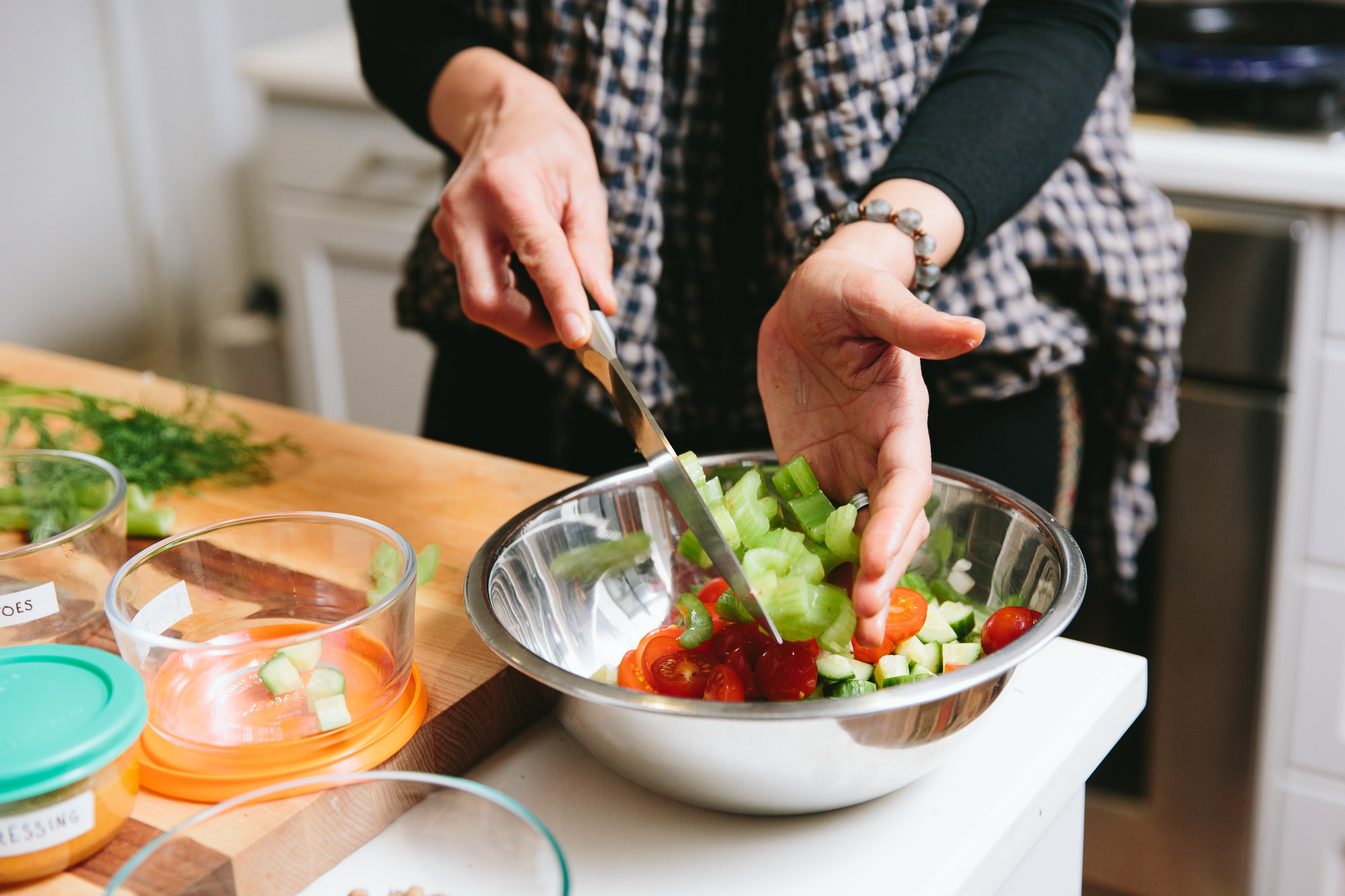 What are some of the ingredients that you always have on hand?
I always have pasta and canned tomatoes, so I can do that. Even if I don't have pasta, I can make it with flour, eggs, and olive oil. I have a pasta machine and I can be eating in 30 minutes. I make a lot of eggs, peanut butter and jelly, and a lot of salad. I always have some sort of vegetable.
Is there a gadget you couldn't live without?
A collapsible box grater. I just bought a new one because I left it at a friend's house. I grate a lot of things — onion, butter, potatoes, vegetables. I'm really into the grater.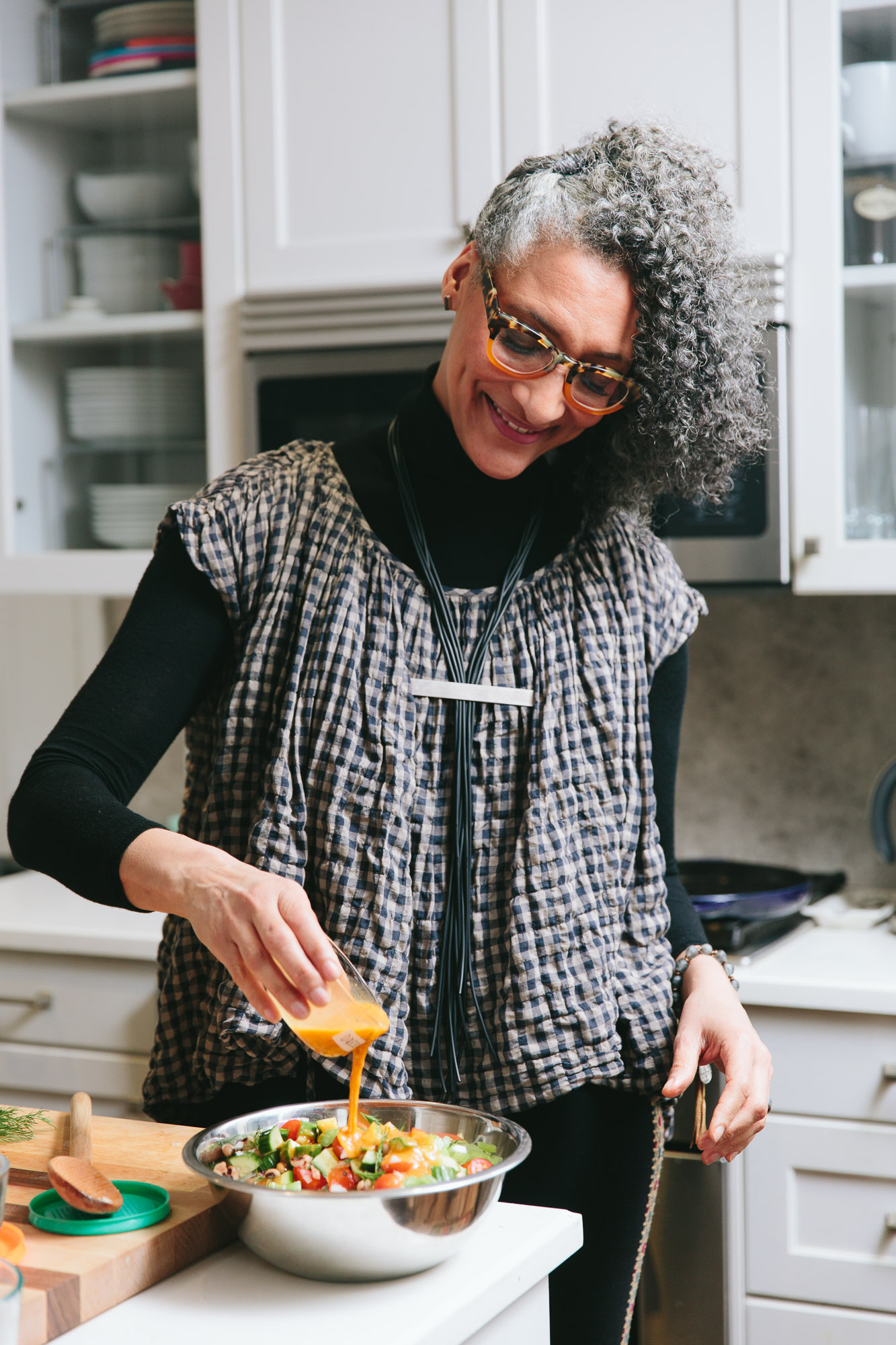 What's the biggest mistake you see people make in the kitchen?
A lot of things! I think people are afraid to season their food! People are afraid to let their food brown; they feel like moving the food around in the pan is the cooking instead of just letting it sit. I think the timing of things is another issue. People aren't sure of what to do first and how to manage a meal. I think in baking, people don't know how to measure flour. I don't think they aerate it and just dump settled flour into a vessel, and think that it's exacting. That's usually too much. Then you blame the recipe!
What cooking shortcuts do you totally support?
I love frozen vegetables like frozen peas and corn. I always have frozen peas and if I don't, it's because I used them all and have to go get more. I think that shelled nuts are a good shortcut. Who shells their own nuts? These days I'm okay with jarred peanut butter. It's really easy and delicious to make yourself; just toast the nuts and put in the food processor with oil and a little bit of sugar and salt. Okay, actually don't take that shortcut — make it yourself!
I'm okay with canned tomatoes (obviously) and some salad dressings, although I usually make my own. I'm okay with some boxed stock. The one that I like to use is the non-chicken stock. Is that with Imagine? It's vegetarian chicken stock that's light — not a lot of mushrooms and carrots in it, which I really like.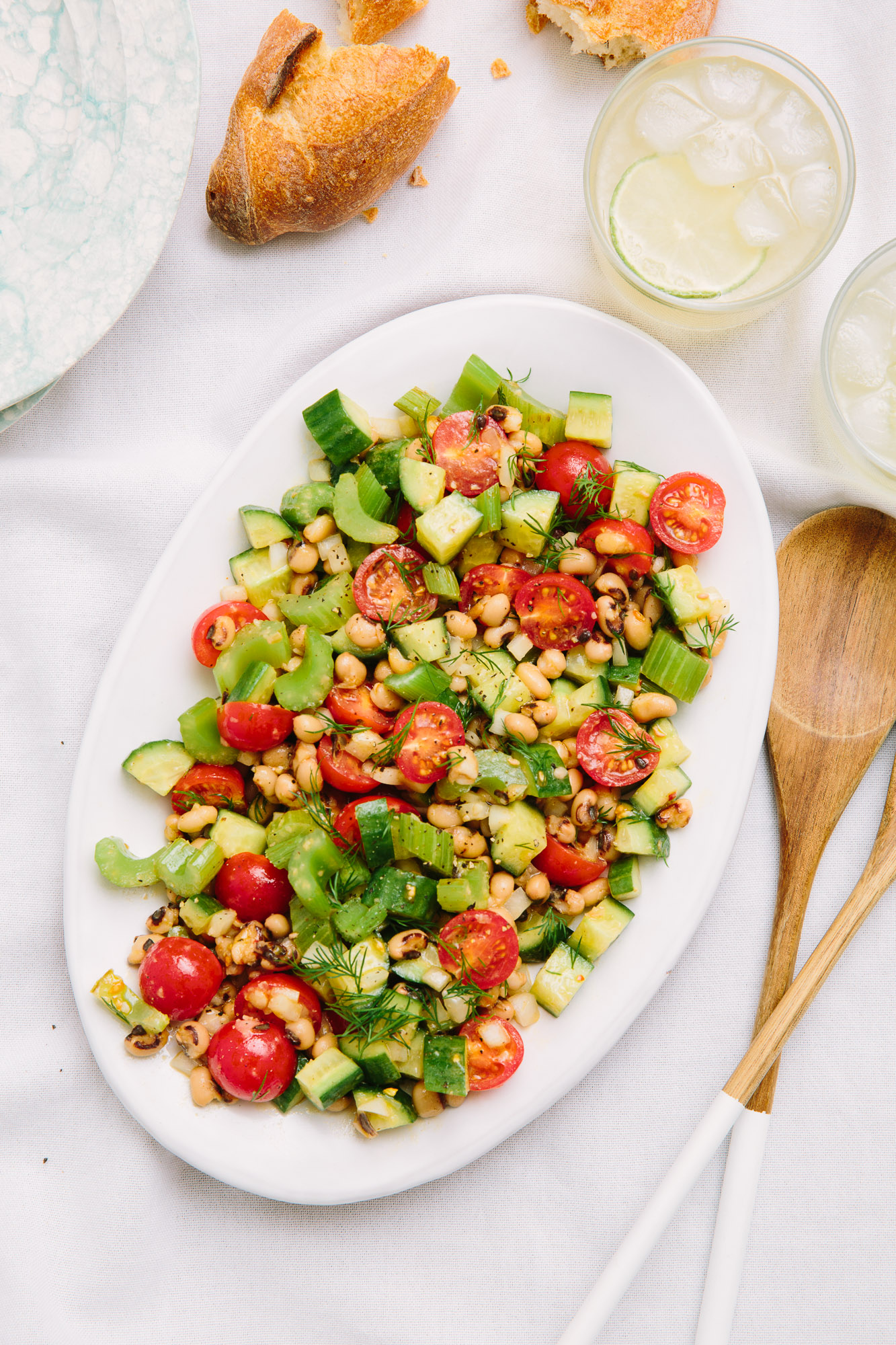 Is it difficult traveling so much and transitioning from kitchen to kitchen?
On the road, I try to eat plain foods. I will make a deal with myself and go out and have a nice dinner. The problem with traveling is that everyone wants you to go to that restaurant that is amazing. That means it's a celebration meal. It's not food that I can eat every day while I'm traveling and not sleeping in my own bed or exercising. There are too many variables that make you not comfortable. And you have to be on. So I eat lots of soups and salads and fish. I don't do chicken breasts anywhere unless they're in a stew. I don't want steamed vegetables and a chicken breast. It's just not yummy.
What's your favorite part of (all of!) your kitchen(s)?
I spend the most time in D.C., but I cook the most in my NYC kitchen, because I'm by myself here. At home, my husband would be cooking. Here I'm testing a lot of recipes. As you can see I have lots of pots and pans. My pots and pans tree! It's very easily accessible. I feel like I should give you all a pot to take home. Everybody take a pot. I have too many.
Read more: The Glorious Generosity of Carla Hall
Thanks so much, Carla! Follow her around the Internet on Instagram and Twitter and find more of her delicious, soulful recipes in her cookbook.
Source: Read Full Article