The One Disappointing Thing About Ina Garten's Chicken Soup Recipe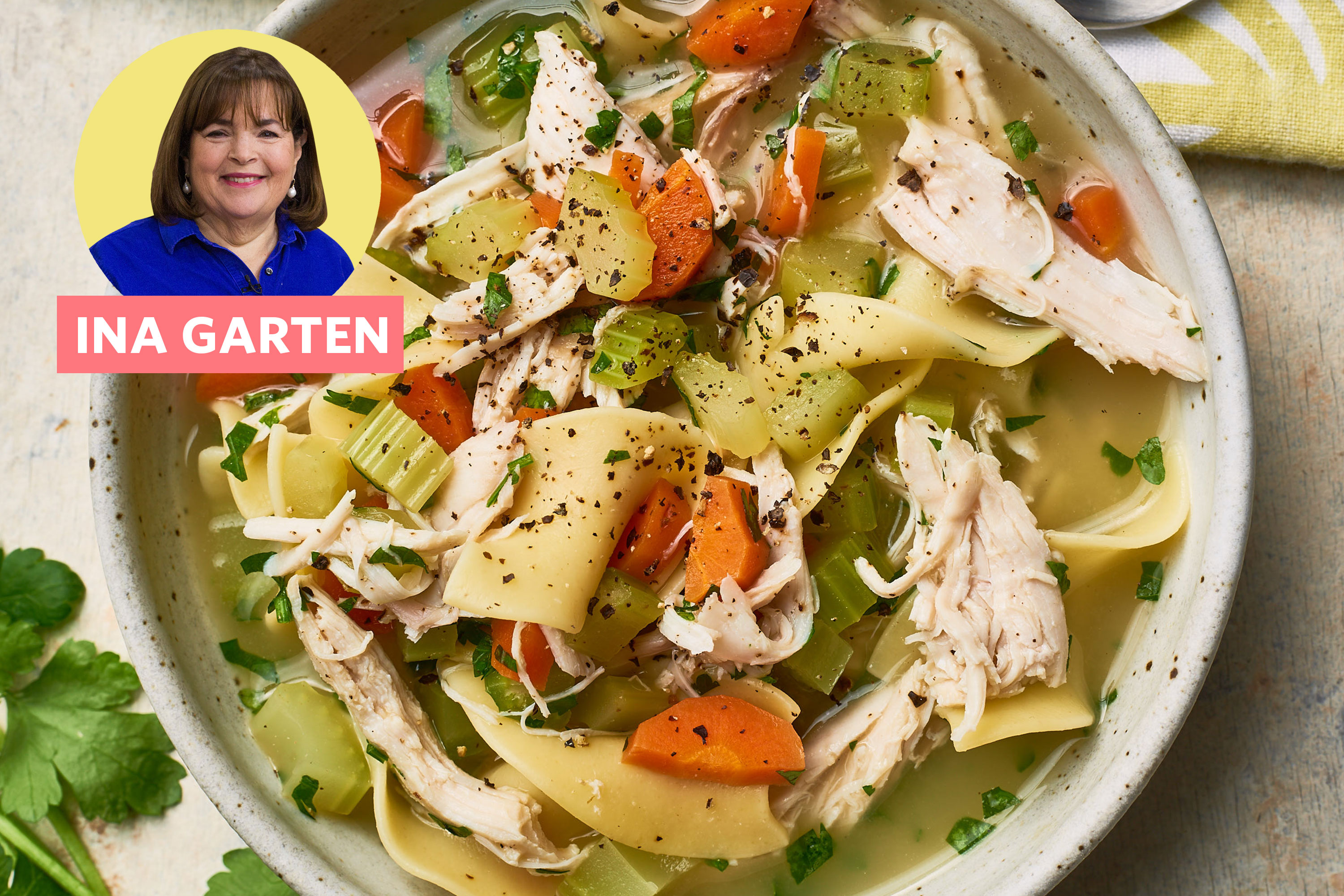 Chicken Champions: All month long, Kitchn is battling off the four classic chicken recipes everyone needs this time of year: pot pie, soup, roast chicken, and showstopper chicken. (It's our version of March Madness: Chicken Edition!) Here's Ina Garten's take on our battle: chicken soup.
When I think of Ina Garten, I usually picture her cooking a nice lunch or dinner for Jeffrey in their beautiful East Hampton home. I imagine her standing over something cozy on the stove, like chicken soup, stirring it carefully before spooning it into bowls and serving it with good crusty bread from a local bakery.
So I won't deny that I trusted Ina when I saw her chicken noodle soup recipe. I felt pretty confident that she knew what she was doing in this department. At first glance, it looked like it would be solidly delicious — just like many of the other soup recipes I tested. Yet for this one, things didn't quite turn out as planned. Here's how it went.
Get the recipe: Ina Garten's Chicken Noodle Soup
How to Make Ina Garten's Chicken Soup
If you don't already have homemade chicken stock in your freezer, you'll have to plan ahead and start by following Ina's recipe for stock. And, fair warning, it makes a lot. You'll place 3 whole chickens, onions, carrots, celery stalks, parsnips, garlic, and a bunch of fresh parsley, thyme, and dill, in a 16- to 20-quart stockpot. You'll add 7 quarts of water, bring to a boil, then reduce the heat and simmer uncovered for 4 hours. You'll then strain the stock through a colande, chill it overnight, and skim off the fat the next day. You'll have much more than you need for the soup, so you can freeze what you don't use.
To make the soup, you'll rub 1 whole bone-in, skin-on chicken breast with olive oil, season it with salt and pepper, and roast for 35 to 40 minutes until cooked through. You'll let it cool then discard the skin, remove and shred the meat from the bones, and discard the bones.
Next you'll bring some of the chicken stock to a simmer in a large pot. You'll add chopped celery and carrots, along with dry egg noodles, then continue to simmer for about 10 minutes until the noodles are cooked. Then you'll stir in the chicken and chopped fresh parsley and serve.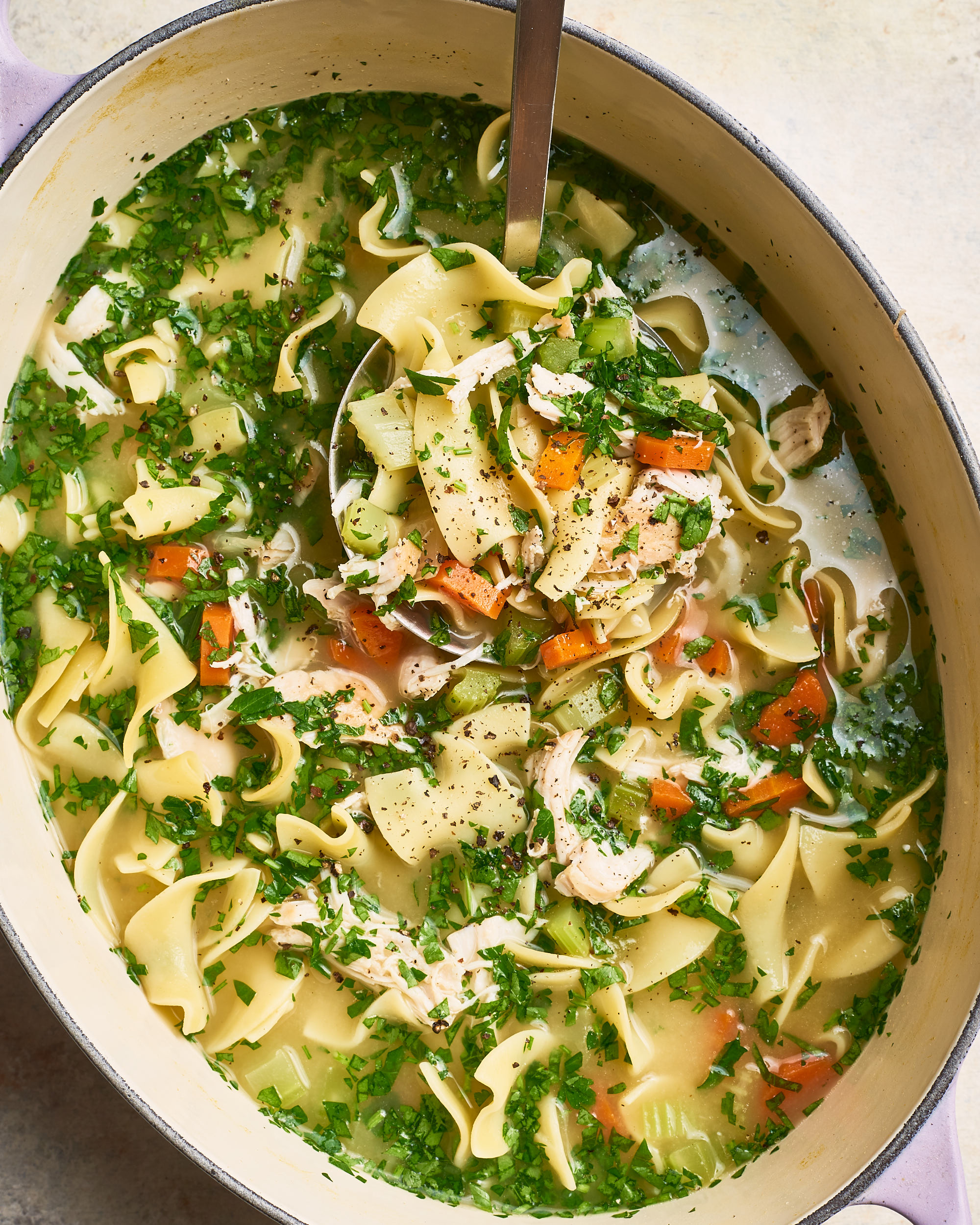 What I Thought of the Results
This is most definitely what comes to mind when I think of homemade chicken soup — it's classic and extra comforting. I liked that Ina kept it simple with just carrots and celery for vegetables, plenty of egg noodles, and a bit of chopped fresh parsley at the end for brightness and eye-catching color.
I did have an issue, though, and it's not related to the soup itself, but rather the chicken stock recipe (hers) that it starts with. If you follow Ina's recipe for stock, you're simmering 3 whole chickens for 4 hours. Yes, you'll get tons of stock out of the recipe, but simmering the birds for that long means they'll be completely tough and inedible. So yes, she intends for you to throw them away afterward. And that I just can't stomach. (Not only is it money down the drain, but it's also food that could have been eaten!)
Chicken stock is often made from a leftover chicken carcass and if it is made with a whole bird, it's simmered just long enough for the meat to still be salvageable and eaten. I was disappointed in Ina for this wasteful recipe and many other commenters agreed. Luckily, I had homemade chicken stock already in my freezer that I had made after roasting a chicken a few weeks ago, so I used that instead (otherwise, I would still be feeling the guilt from the waste accumulated from her stock recipe).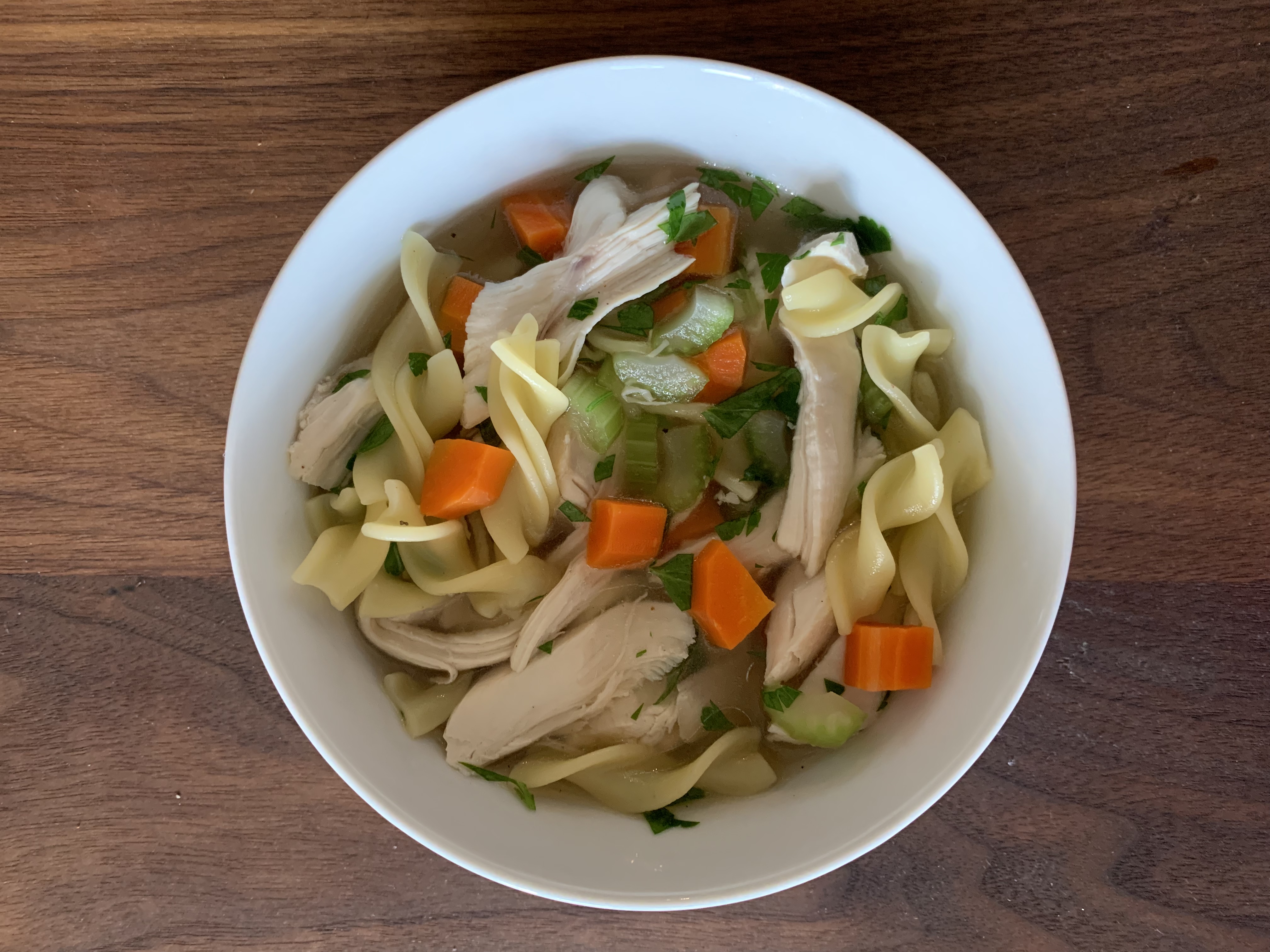 If You Make Ina Garten's Chicken Soup …
1. Use another chicken stock recipe! There are plenty of great homemade chicken stock recipes that aren't as wasteful as Ina's (such as here, here, and here). Skip hers and pick another one.
2. Be sure to by bone-in, skin-on chicken breast. Ina specifically calls for this cut so you get added flavor from the bones and skin as the chicken roasts. I do think it makes a difference and also ensures the meat stays juicy.
Overall Rating: 7/10
While I loved how traditional Ina's chicken soup was, I just couldn't get past how wasteful her chicken stock recipe was. For that reason, the rating isn't higher.
Get the recipe: Ina Garten's Chicken Noodle Soup
Read More
Review: Chrissy Teigen's Chicken Soup
Review: Pioneer Woman's Chicken Soup
Review: Rachael Ray's Chicken Soup
Who Wins the Title of Best Chicken Soup Ever?
Source: Read Full Article