How I Prep a 2-Week Supply of Freezer Meals in Just a Few Hours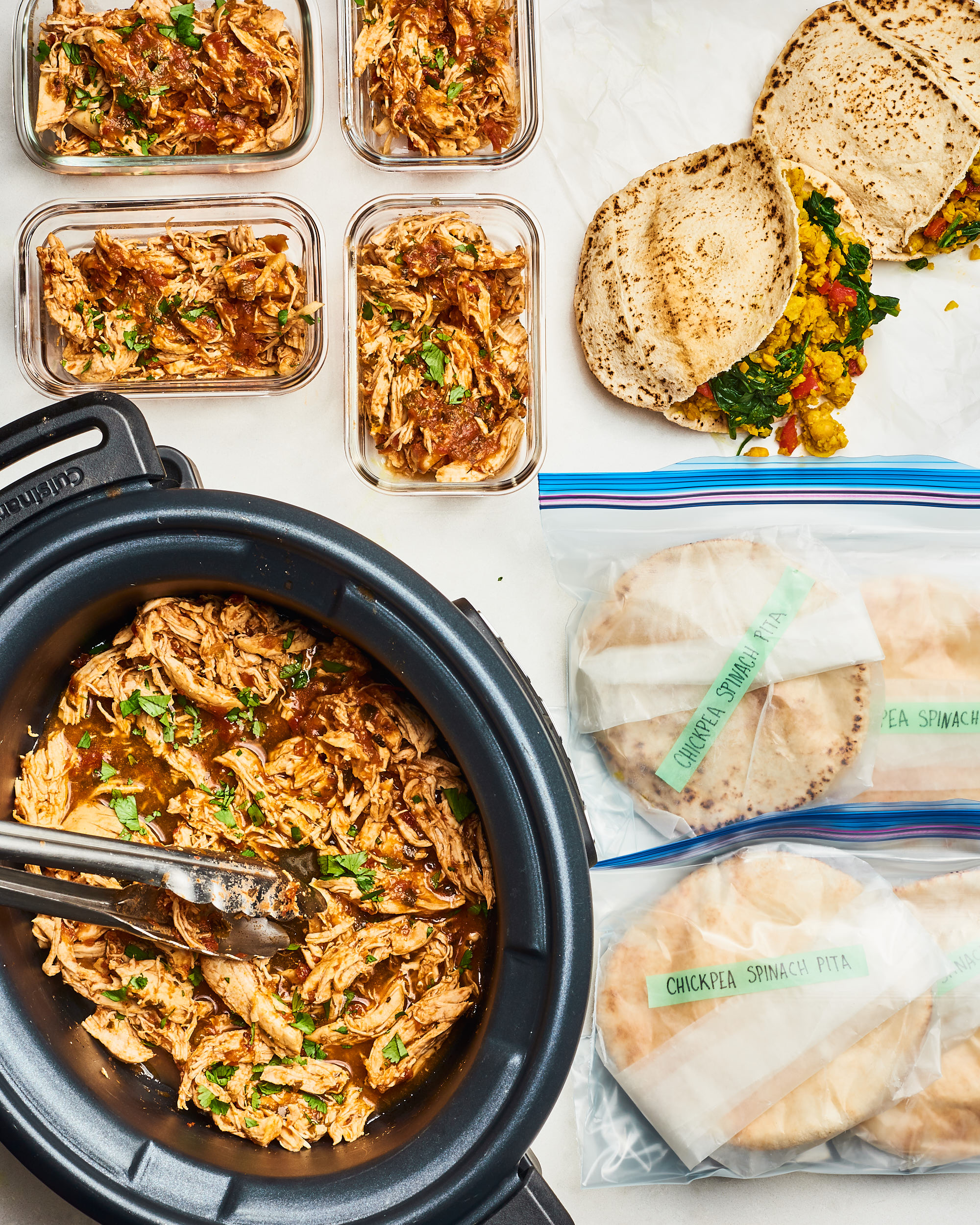 Now that I've been meal planning and prepping for a while, I've seen first-hand what a difference it makes in the week ahead. I spend less, waste less, eat smarter, and spend a whole lot less time in the kitchen during the week. So when presented with some extra free time last weekend, I decided to double down on my efforts and prep for two full weeks of meals for my family of two — some to be eaten straight away, and some to be stocked in the freezer for the following week. Talk about a gift to my future self!

If there's one thing I love more than my regular weekly meal prep, it's batch cooking. I put in some extra time and effort upfront and, in this case, reap the benefits in the form of prepped and ready-made food over the course of two weeks.
My husband and I both value variety in our meal plan, so the second week of this meal plan is not an exact repeat of week one. Instead, I change things up by both repurposing dinner leftovers as lunch and freezing them for the following week.

My Meal Prep Goals
Breakfast: Versatile big-batch breakfasts for myself and my husband that can be eaten at home or on the go (10 days).
Lunch: A wholesome, light, protein-packed lunch for myself and my husband (10 days).
Dinner: A mix of fully cooked dinners and prepped ingredients, so I'm not starting from zero every night (nine days).
Nutritional Goals: While we don't have any food restrictions, we make a point to work in a lot of vegetables and focus our diet on a wide variety of whole foods that feel (mostly) healthy to us.
Meal Prep Plan Snapshot
Feeds: Two people
Prep Time: About 3 hours
Meals Covered: About 80% (No weekend meals)
Weeknight Cooking Required? Moderate. Some dinners are fully cooked and require reheating and assembly, while others are prepped and require some cooking to bring the meal together.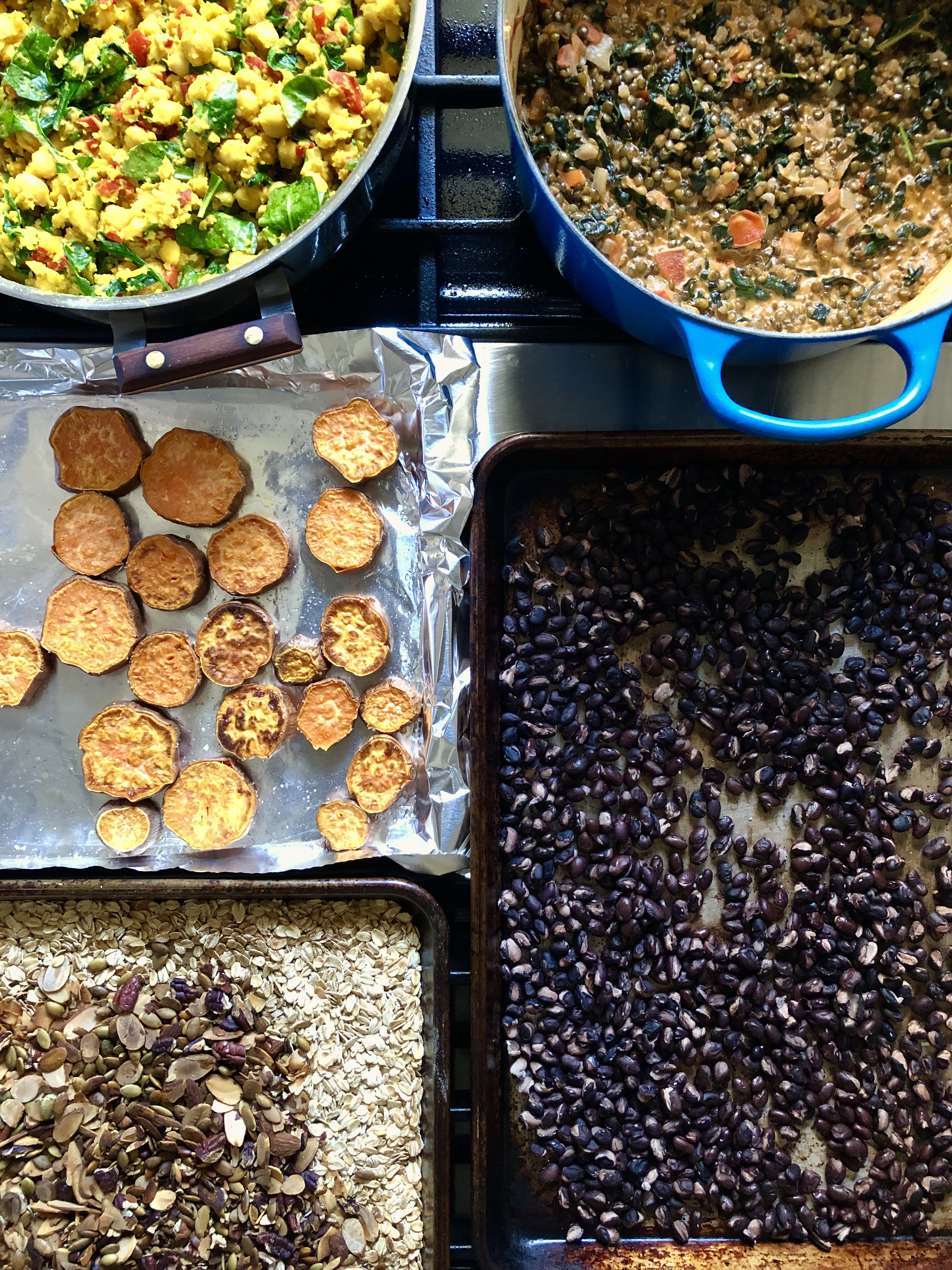 My Meal Plan
Breakfasts
Muesli Overnight Oats
Spinach Feta Breakfast Wraps: Freeze half for week two
Tropical Smoothie Kits
Lunches
Chickpea & Spinach Pitas: Freeze half for week two
Sweet Potato Sandwiches
Leftover tomato braised lentils
Leftover salsa chicken burrito
Leftover black bean burgers
Leftover salsa chicken with a salad kit
Dinners
Tomato-Braised Lentils: I substitute the broccoli rabe in the recipe for a bunch of kale
Slow Cooker Salsa Chicken: Freeze about 2/3 for week two
Easy Sausage and Peppers
Vegetarian Tikka Masala: Once cooked, freeze the leftovers for week two
Sausage and Peppers Pizza: I use store-bought pizza dough and the leftover sausage and peppers as a topping
Black Bean Burgers: Freeze the uncooked patties for week two
Pork & Broccoli Rice Bowls
Maple Mustard Marinated Chicken Thighs: Freeze the chicken with the marinade, then cook as a sheet pan supper with broccoli and potatoes in week two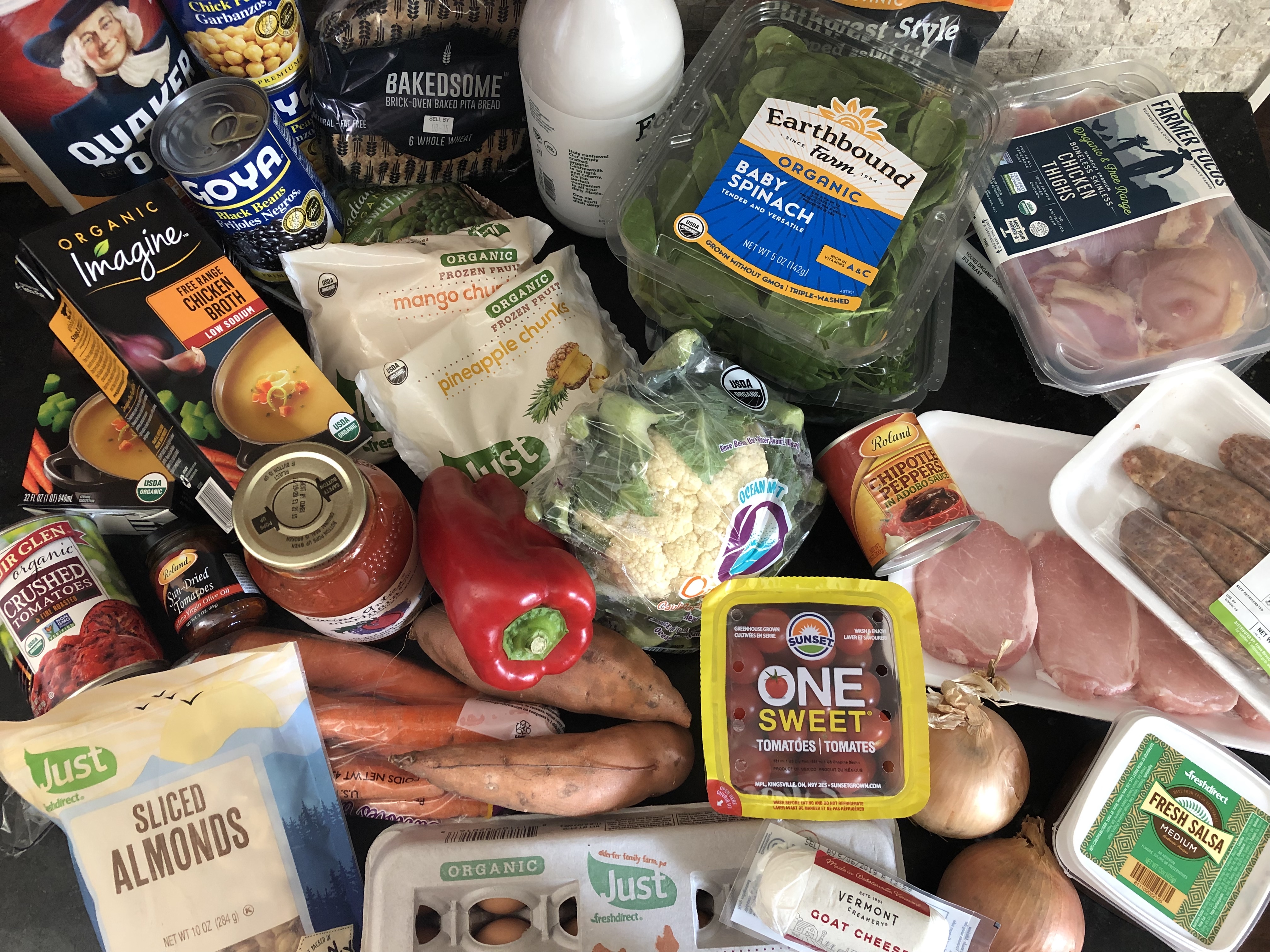 Below are the ingredients I bought or used for this meal prep plan. I also relied on staples already in my pantry, like oil and spices.
Produce: 2 containers baby spinach, 1 container arugula, 1 bunch Tuscan kale, 1 pint cherry tomatoes, 1 large tomato, 4 onions, 2 heads garlic, 4 red bell peppers, 2 sweet potatoes, salad kit, 1 head cauliflower, 1 head broccoli, 1 pound carrots, 3 avocados, cilantro, 3 bananas, fresh ginger
Meat: 1 1/2 pounds boneless, skinless chicken breast; 1 pound boneless, skinless chicken thighs; 3/4 pound Italian sausage; 12 ounces boneless pork loin cutlets
Dairy, Eggs, and Refrigerated Items: 1 gallon non-dairy milk, 1 pint heavy cream, 1 dozen large eggs, 4 ounces feta cheese, 4 ounces goat cheese, pizza dough, 16 ounces refrigerated salsa
Pantry: Whole oats, wheat bran, sliced almonds, pepitas, pecans, unsweetened coconut flakes, French lentils, polenta, whole-wheat tortillas, whole-wheat pitas, whole-grain bread, 4 buns, 6 cans chickpeas, 2 cans black beans, 1 can crushed tomatoes, tomato paste, 1 can chipotle peppers, sun-dried tomatoes, 1 jar marinara sauce, chicken broth
Frozen Foods: Frozen mango, frozen pineapple, frozen cauliflower rice, frozen peas, frozen rice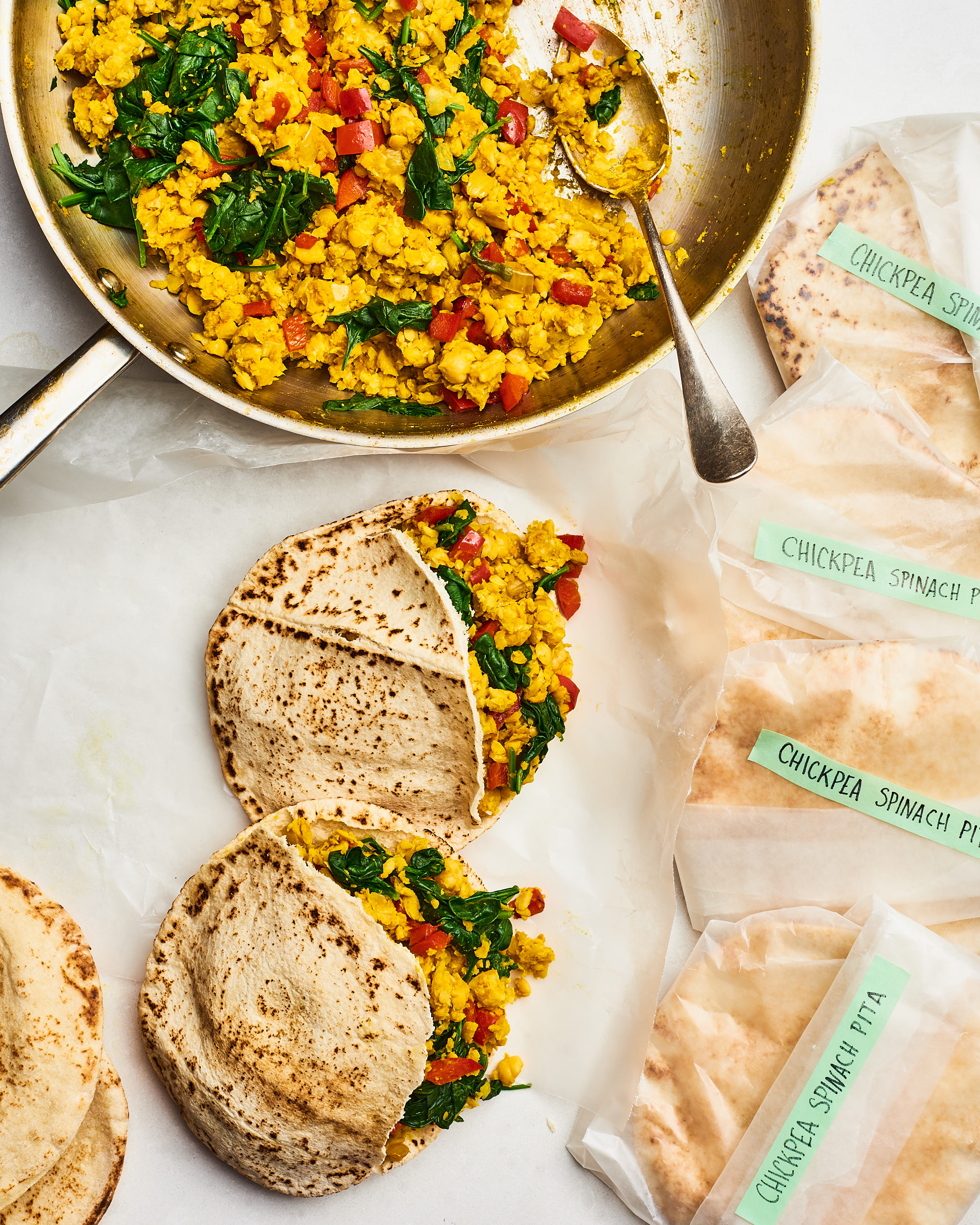 My approach to meal prep is all about efficiency, multitasking, and embracing the "meanwhile." This means I always start with the tasks that take the most time, and I aim to take advantage of those sporadic hands-off moments (the oven preheating, water coming to a boil, etc.).
My prep list is as follows (and we've created a handy pinnable image with the menu and prep list below, if you want to save this for later!):
1. Preheat oven: This is always my first order of business when I step into the kitchen for a meal prep session. By the time I get the slow cooker and lentils going, the oven is heated and ready to cook the muesli, beans, and sweet potatoes.
2. Make slow cooker salsa chicken: Because it takes the longest to cook, I layer the salsa and chicken breasts in the slow cooker, then cook on high for just under 2 hours. Once it's done, I'll shred the chicken right in the slow cooker.
3. Cook braised lentils: The lentils require some hands-on work in the beginning, then simmer undisturbed for 30 minutes. I skip the broccoli rabe and instead stir in a small bunch of chopped kale leaves about halfway through cooking. While the lentils simmer, I prep the muesli, black beans, and sweet potatoes.
4. Cook muesli: I pop two baking sheets in the oven to toast the oats and nuts for the muesli, which takes about 15 minutes. When it's done, I combine the nuts and oats on a single baking sheet and set aside to cool.
5. Dry the black beans and cook the sweet potatoes: Once the oven is free, I spread two cans rinsed black beans onto one baking sheet (I'll use these later for veggie burgers) and sliced sweet potato rounds on another (I'll use these later for sandwiches). These both cook for about 20 minutes. Meanwhile, I prep ingredients for the chickpea and spinach pitas.
6. Cook chickpeas and spinach: I use my food processor to mash half of the beans (so much faster than using a fork!), then wipe it clean when I'm done, since I'll use it again later for the black bean burgers. To streamline and simplify the pita filling, I add the onion, bell pepper, and spices to the skillet at the same time. Once cooked, I let the mixture cool. I'll stuff the pitas later on in my prep session.
7. Broil bell peppers: Once the beans and sweet potatoes are out of the oven, I set it to broil and quickly broil the bell peppers, which will be used for sausage and peppers.
8. Cook and assemble breakfast wraps: For these wraps I think it's more efficient and less messy to cook the spinach first, followed by the eggs. I use a dozen eggs (the recipe calls for 10) so that I'm not left with two stragglers and so the recipe can stretch to yield six (rather than four) wraps. I also whisk in about 1/4 cup of cream left over from the lentils. (Extra fat is a friend to eggs anytime you plan to freeze them!). After scrambling the eggs, I heat the tortillas over a stove burner to give them a little char and to make them more pliable for rolling. I want the eggs and tortillas to be completely cool before assembling, so while I wait I shred the salsa chicken directly in the slow cooker, and add the dried fruit to the muesli and transfer it to a jar.
9. Make black bean burger patties: At this point all cooking is complete, and I move on to prep work. I blitz the mixture for the burger patties in the food processor, then shape it into four patties that will get stored in the freezer for a lunch and a dinner during week two.
10. Assemble chickpea and spinach pitas: I stuff the cooled chickpea mixture into the pitas and wrap each one individually. I stash four in the fridge for lunches in the coming week, and put the remaining pitas in the freezer for the following week.
11. Assemble smoothie kits: I label three freezer bags, then fill each one with enough frozen fruit for two servings per bag. I store them in the freezer.
12. Prep vegetables for tikka masala: I chop the cauliflower and carrots, which will be used for vegetarian tikka masala during the week.
13. Prep chicken marinade and freeze: I double the recipe for a maple mustard marinade, then transfer it to a freezer bag along with a pound-and-a-half of boneless chicken thighs. I'll store these in the freezer and cook for dinner during week two.
14. Prep and freeze pork: Lastly, I slice the pork cutlets and store them in a freezer bag in the freezer.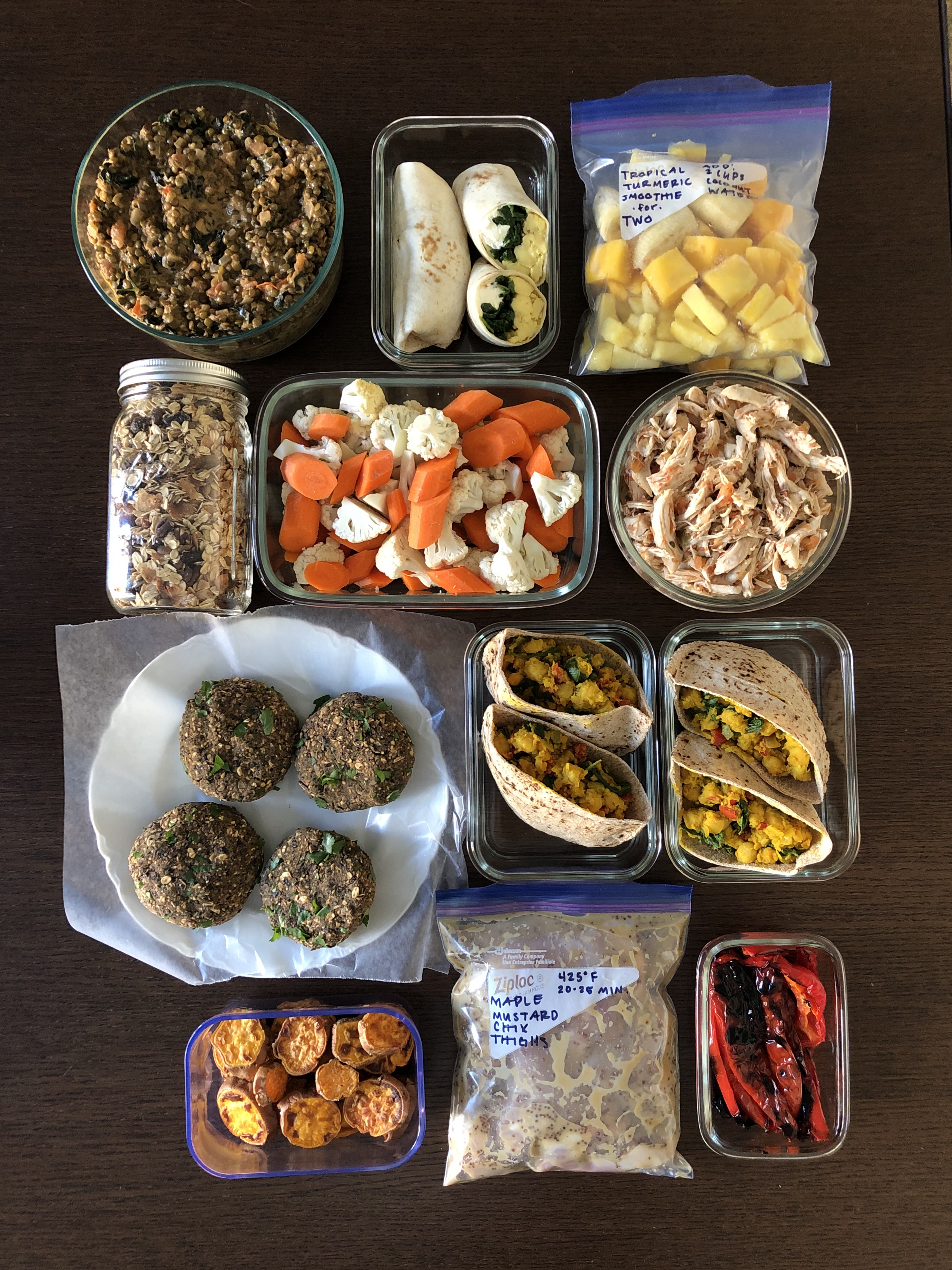 2 Weeks of Easy Freezer Meals
Breakfast: We alternate between muesli overnight oats, tropical smoothies, and spinach and feta egg wraps. If we plan ahead, we soak the muesli in milk the night before (otherwise we give it a shorter soak in the morning). Thanks to the smoothie kits, all that's left to do in the morning is dump the bag into the blender with coconut water or cashew milk. We pop the egg wraps in the oven as soon as we wake up, so that by the time we finish our morning routine, breakfast is ready.
Lunch: We eat a mix of chickpea and veggie pitas (reheated in the oven for me, and the office toaster oven for my husband), sweet potato sandwiches, and leftovers.
Dinner: Follow this game plan for dinners during week 1.
Monday | Tomato-Braised Lentils: Since dinner is already cooked, all that's left to do is reheat the lentils. We'll eat leftovers for lunch later this week.
Tuesday | Salsa Chicken Cauliflower Rice Burrito Bowls: While the chicken reheats on the stove, I cook some frozen cauliflower rice with garlic, ground cumin, fresh cilantro, and lime juice. We top the bowls with avocado.
Wednesday | Easy Sausage and Peppers: Since the peppers are already broiled, all the cooking happens on the stovetop. I get a pot of polenta going, cook the sausage and onion, then stir in the peppers and sauce.
Thursday | Vegetarian Tikka Masala: The vegetables are already chopped, so I get right to cooking. Total cook time is just over 30 minutes, but it's mostly hands-off. I also heat up some frozen rice. We freeze the leftovers for dinner next week.
Friday | Sausage and Peppers Pizza: We repurpose the leftovers from Wednesday night's dinner (which aren't enough for a meal on their own) into a quick pizza using store-bought dough.
Note: Week 2 begins with no grocery shopping or meal prep because it's already done!
Monday | Black Bean Burgers: I transfer the patties from the freezer to the refrigerator the day before to defrost, then cook them on the stovetop. Dinner comes together in 10 minutes, and we serve the burgers with lingering veggies from the freezer.
Tuesday | Pork & Broccoli Rice Bowls: I transfer the pork from the freezer to the refrigerator the day before to defrost. While I heat up some rice from the freezer, I stir together a quick peanut sauce, then stir-fry the pork and broccoli. Dinner is ready in about 15 minutes.
Wednesday | Leftover Vegetarian Tikka Masala: I reheat the leftover tikka masala and rice.
Thursday | Maple Mustard Marinated Chicken Thighs: I transfer the chicken from the freezer to the refrigerator the day before to defrost. I add the chicken thighs, along with some broccoli and a couple of lingering potatoes to a sheet pan and cook at 425°F for about 25 minutes.
Friday | Night Out!
***
(We have more Power Hour Meal Prep plans for all kinds of cooks and eaters! Check out all the plans we have so far.)
Power Hour Meal Prep is the series where we help you put it all together. We show you how to eat well during the week with an hour or two of Power Hour prep over the weekend. Every plan is different; mix and match to find your own personal sweet spot.
Source: Read Full Article